Apple May Sell Optional iPhone 15 Pro USB-C Thunderbolt Cable
Apple may offer a USB-C data transfer accessory cable for iPhone 15 Pro models that is capable of Thunderbolt or USB4 speeds of up to 40Gbps. That is the latest claim made by Kosutami, who posted details of the cable on Twitter (now X).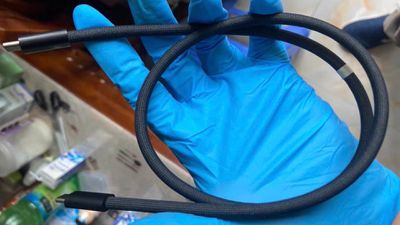 Leaked 0.8m Thunderbolt USB-C cable (Image: Majin Bu)
According to the leaker, the length of the cable is 0.8 meters, which is shorter than Apple's existing
Thunderbolt 4 Pro cable (1.8m)
, and it is said to support charging up to 150W. Apple will allegedly sell the cable separately.
Given the expected switch to USB-C across all iPhone 15 models, there has been a lot of conjecture about which port standard Apple will use in its premium iPhone 15 Pro and iPhone 15 Pro Max devices to potentially differentiate them further from the more affordable iPhone 15 and iPhone 15 Plus models.
According to Apple analyst Ming-Chi Kuo, the iPhone 15 Pro models will support "at least" USB 3.2 or Thunderbolt 3. However, the leaked USB4 cable is based on the Thunderbolt 4 protocol, allowing it to offer equivalent speeds of 40Gbps, or twice the preceding USB 3.2 Gen 2 standard.
As for the 150W charging claim (not 120W – a correction made by Kosutami in a subsequent tweet) this would make the cable capable of faster power delivery than Apple's existing Thunderbolt 4 Pro cable (100W), however that does not necessarily mean iPhone 15 Pro models will be capable of charging at this speed.
Earlier this year, Apple analyst Ming-Chi Kuo said that the ‌iPhone 15‌ models would support faster charging speeds due to the transition to USB-C, while one rumor has claimed that at least some iPhone 15 models
may support charging speeds up to 35W
. Current iPhone 14 models can charge at a maximum of around 27W, with the Pro models able to charge a bit faster.
Speculation therefore remains rife about the USB-C port capabilities of the iPhone 15 lineup, and nothing is certain beyond the switch from Lightning. Rumors suggest the cables supplied in iPhone 15 boxes are
limited to USB 2.0 data transfer speeds
at a rate of 480 MBps, which is the same as Lightning.
In contrast, the iPhone 15 Pro models are expected to be supplied with cables capable of USB 3.2 or Thunderbolt 3 transfer speeds, as per Kuo's original claim. Images from ChargerLab suggest that some iPhone 15 models will include a Thunderbolt/USB 4 retimer chip, seemingly confirming the rumor of higher-speed data transfer for the Pro models.
Each iPhone 15 will include a braided USB-C charging cable in the box that is thicker (i.e. more durable) and 50% longer than the Lightning cable that comes with current iPhone models, according to reports. The cables are also rumored to be color-matched to possible new iPhone colors, coming in at least black, white, yellow, blue, and orange.
Apple will announce the new iPhone 15 lineup at an event that is expected to be held on September 12.