No M2 iMac on the Horizon for 2022 as Apple Waits for M3 Chips
The iMac could miss out on the M2 chip and wait for a bigger performance leap with the M3, a recent report from Bloomberg's Mark Gurman suggests.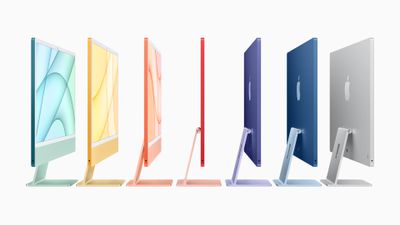 Apple introduced the 24-inch ‌iMac‌ in April last year, featuring the M1 chip and a striking new design with a range of color options. Amid the launch of the first Macs with the M2 chip, the 13-inch MacBook Pro and the redesigned MacBook Air, questions around whether the 24-inch ‌iMac‌ could get a similar upgrade with the ‌M2‌ chip have begun to emerge, especially now that it is over a year old.
An ‌iMac‌ with the ‌M2‌ chip was missing from Gurman's forecast of upcoming ‌M2‌ Macs on Apple's product road map, which includes new Mac mini models with ‌M2‌ and ‌M2‌ Pro chips, new 14-inch and 16-inch MacBook Pro models with ‌M2‌ Pro and ‌M2‌ Max chips, and a new Mac Pro tower with ‌M2‌ Ultra and "‌M2‌ Extreme" chips.
Following the ‌M2‌ series of Macs, Gurman said a new ‌iMac‌ will be among the first M3 series of Macs, which will include an updated 13-inch ‌MacBook Air‌, an all-new 15-inch ‌MacBook Air‌, and potentially a new 12-inch notebook that is "still in early development." The device is expected to be the successor to the current ‌M1‌ ‌iMac‌ and may not launch until late 2023 at the earliest, according to Gurman.
The ‌M3‌ chip is expected to be built on TSMC's 3nm technology, unlike the ‌M1‌ and ‌M2‌, which are built using a 5nm process. The more advanced manufacturing process is expected to bring significant performance and efficiency improvements. Apple is also believed to be working on a high-end iMac model that uses chips from the ‌M3‌ series.
It is not clear why Apple would exclude the ‌iMac‌ from the ‌M2‌ chip and exclude it from an update until the ‌M3‌ chip is available, especially since this means that the current ‌M1‌ model would be around for a considerable amount of time. For more on what to expect from the next ‌iMac‌, see our dedicated guide.