Apple Reportedly Developing Larger iMac With Over 30-Inch Display
Apple is in the early stages of developing a new iMac with over a 30-inch display, which would be the largest-ever size for the all-in-one computer, according to Bloomberg's Mark Gurman. In his weekly Power On newsletter, Gurman said this iMac remains "further out," suggesting that it might be at least a year or two away from launching.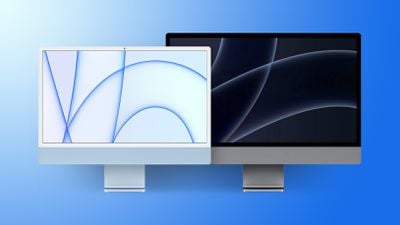 "The company is also conducting early work on an iMac with a screen over 30 inches," wrote Gurman. He did not share any additional details at this time.
Excluding refurbished models, the iMac is currently only available in a 24-inch size, as Apple discontinued the Intel-based 27-inch iMac and iMac Pro over the last few years. Despite occasional rumors about the iMac Pro making a comeback, there is still no larger iMac with Apple silicon available. One solution is to purchase a 27-inch Studio Display and connect it to a Mac with Apple silicon, but this is not an all-in-one setup.
Released in April 2021, the 24-inch iMac features a colorful, ultra-thin design and is equipped with the M1 chip. Gurman expects the 24-inch iMac to be updated with the as-yet-unannounced M3 chip by early next year. All current Apple silicon chips are manufactured based on TSMC's 5nm process, while the M3 chip is expected to move to a 3nm process for significant performance and power efficiency improvements.
A larger iMac is one of many products on Apple's product roadmap, according to Gurman. He also expects a second-generation Apple Watch Ultra to launch later this year, suggesting that the high-end watch might be updated on an annual basis like other models.