M1 iMac Colors: Deciding on the Right Color
The redesigned iMac arrived this month in a range of seven striking colors, offering an iPhone 12-style selection of finishes on the ‌iMac‌ for the first time in almost 20 years.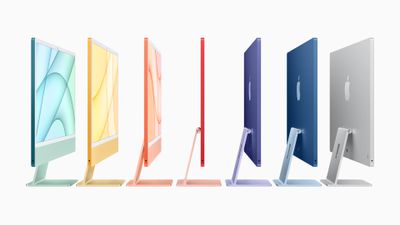 Color pervades all aspects of the new ‌iMac‌, extending to the Magic Keyboard and mouse, and even the magnetic power cable. Especially as users tend to hold onto their Macs for longer than their iPhones, choosing the right color will be particularly important. The 24-inch ‌iMac‌ is available in seven colors:

Green
Yellow
Orange
Pink
Purple
Blue
Silver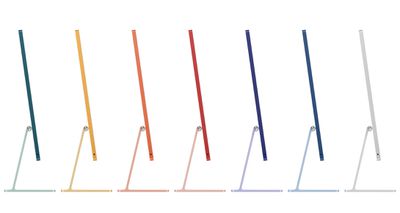 Most of the new iMacs use two tones of the same color. The front features softer, pastel colors to help users focus on their on-screen content, while the back of the ‌iMac‌ has a much more bold, intensely saturated color. The only model with the same color all-over is the silver ‌iMac‌. Buyers should also consider the fact that the front of the ‌iMac‌ features white bezels.
How to Decide on Color
The Orange, Yellow, and Purple iMacs are only available with the mid and high-end configurations starting at $1,499. If you are planning on buying the entry-level $1,299 ‌iMac‌, you will have to choose from Green, Pink, Blue, and Silver only. If your heart is set on Orange, Yellow, or Purple, you will have to at least buy the mid-level $1,499 ‌iMac‌.

Customers with multiple Apple devices may also want to get an ‌iMac‌ color that compliments their other devices. For example, iPhone 12 users may wish to consider matching their ‌iMac‌ to their ‌iPhone‌. White, (PRODUCT)RED, Green, Blue, and Purple ‌iPhone 12‌ users will be able to directly match an equivalent ‌iMac‌ color.

Fans of Space Gray and Black are out of luck with the new ‌iMac‌. If you are looking for the most neutral and classic ‌iMac‌ color, Silver will be the best option.
The ‌iMac‌ has not been offered in color options since 2003, but for fans of the original ‌iMac‌ G3, it is possible to view the M1 ‌iMac‌'s colors as an homage to some of the original colors like Strawberry, Blueberry, Lime, Grape, and Tangerine, which may play into your decision.


Due to the size of the ‌iMac‌ and the fact that it is a stationary device, it will also be very important to consider what color will go well with the interior design of the location where you will be putting it.
For more information about the new 24-inch ‌iMac‌, see our comprehensive roundup.