MacBook Pro Color Issue Draws Complaints From Users
Following the launch of the redesigned, high-end MacBook Pro, some users are complaining about the new MagSafe charger mismatching with the Space Gray model.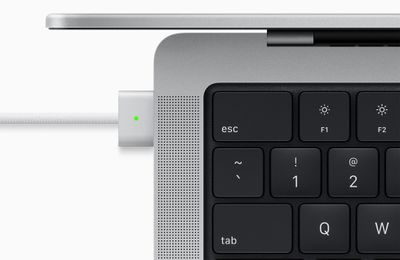 Older MacBook Pro models that featured ‌MagSafe‌ charging were only available in Silver and featured a matching magnetic charger. When the MacBook Pro became available in Space Gray as well as Silver with the 2016 redesign, Apple simultaneously eliminated ‌MagSafe‌ charging, removing the possibility of a color-matched charger.
‌MagSafe‌ has now returned to the MacBook Pro with ‌MagSafe‌ 3, but Apple is continuing to include a Silver-colored charger regardless of the MacBook Pro's color. The issue has been flagged by a large number of users on social media, including by Bloomberg's Mark Gurman, who revealed a large amount of information about the new MacBook Pro months before it launched.
Space Gray is an extremely popular color for many of Apple's devices, and since the magnetic ‌MagSafe‌ 3 charger is directly against the MacBook Pro's body when charging, some users feel that the mismatching charger is an oversight on Apple's behalf.
It is worth noting that the Apple Watch now comes with a Silver-colored aluminum charging puck regardless of the color you choose, and Apple's ‌MagSafe‌ and ‌MagSafe‌ Duo chargers for the iPhone are also only available in Silver.
That being said, the 24-inch iMac comes with a color-matched magnetic power cable, meaning that Apple makes power cables for the ‌iMac‌ in seven different colors. This has led some users to question why the Space Gray MacBook Pro is refused a color-matched charger, especially considering that Space Gray is a fairly neutral color compared to the ‌iMac‌'s Blue, Green, Yellow, Pink, Orange, and Purple.
Apple's color-related decisions have been a source of contention in recent months, with the Apple Watch Series 7's color options causing particular discontentment among some users.