2021 MacBook Pro Leaks Confirm Returning MagSafe and Ports
Apple's upcoming MacBook Pro models are expected to feature a number of major changes such as larger display options and powerful new Apple silicon chips. Among the more surprising updates to this year's MacBook Pro models is the return of three ports that have been missing from the machines for over five years.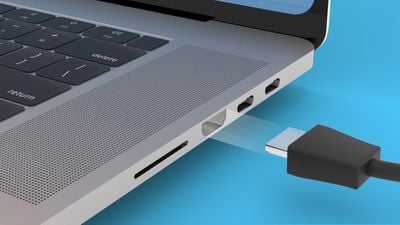 Expected to come in 14- and 16-inch sizes, the 2021 MacBook Pro models are believed to deliver a number of significant design changes, such as the removal of the Touch Bar, a new flat-edged design, brighter displays, and more.
After five years of having between two to four USB-C ports only, Apple will renege on the controversial decision and backtrack entirely, adding three different ports back to the MacBook Pro, according to a number of reliable analysts, journalists, and leaks.

SD Card Reader
Bloomberg's Mark Gurman has said that he believes the new MacBook Pro models will feature an SD card reader:

The upcoming MacBook Pro is an example of Apple's renewed focus on Mac loyalists. The company is planning to bring back an SD card slot for the next MacBook Pros so users can insert memory cards from digital cameras. That feature was removed in 2016, to the consternation of professional photographers and video creators, key segments of the MacBook Pro user base.
Many photographers and videographers heavily rely on SD cards to transfer files from their cameras to a computer for editing and sharing. With the MacBook Pro redesign in 2016, Apple removed the SD card reader entirely, forcing users to resort to a cumbersome adapter or dock to transfer files.
In a research note obtained by MacRumors, analyst Ming Chi-Kuo corroborated Gurman's rumor, agreeing that the 2021 MacBook Pro models will come with an SD card reader.
HDMI Port
Kuo also explained that 2021's MacBook Pro models will feature the return of an HDMI port:

We predict that Apple's two new MacBook Pro models in 2H21 will have several significant design and specification changes. Some of the practical changes for users are equipping with the SD card reader and HDMI port.
The HDMI port on the MacBook Pro was used to connect to external displays, such as monitors and TVs. While many new monitors offer a USB-C port for direct connection and there are USB-C to HDMI cables, HDMI is still the dominant port for connecting to external displays.
Similar to the SD card reader, the HDMI port was vital to many parts of the MacBook Pro user base. The return of the HDMI port is likely to placate customers with broader technical needs and it will more clearly distinguish the MacBook Pro product line as a series of machines for professionals.
MagSafe Connector
Kuo and Gurman have also both said that the MagSafe charging connector will return to the MacBook Pro this year.
Kuo remarked that "the ‌‌MagSafe‌‌ charging connector design is restored" on the upcoming MacBook Pro models, while Gurman said that the returned ‌MagSafe‌ charging will include a similar design to the previous incarnation of ‌MagSafe‌ on MacBooks.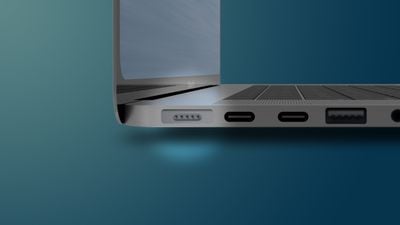 The return of ‌MagSafe‌ may deliver a number of practical benefits, such as faster charging speeds, according to Gurman. The presence of the connector would also restore its original main selling point dating back to its debut in 2006 on the first-ever MacBook Pro, which was easy connection and disconnection using magnets.
The simple idea behind ‌MagSafe‌ was that if tugged on, the charger would detach quickly and smoothly without causing damage to the ‌port or dragging the MacBook Pro. Better still, charging was easier than with USB-C because there was no need to align and insert a connector deeply into a port thanks to its shallowness and use of magnets. The switch back to ‌‌MagSafe‌‌ is likely to be popular with MacBook Pro owners who have missed the feature.
Port Layout
Stolen schematics from Apple supplier Quanta Computer confirmed Apple's plans to add ‌MagSafe‌, HDMI, and an SD card reader back to the the next-generation MacBook Pro models.
The schematics showed the HDMI port, a USB-C/Thunderbolt port, and an SD Card reader on the right side of the machine. The left side features two additional USB-C/Thunderbolt ports and a ‌‌MagSafe‌‌ charging port, for a total of three USB-C/Thunderbolt ports instead of four as we have today.
The MacBook Pro was last equipped with an SD card reader, HDMI Port, and MagSafe in 2015, so it is surprising to see these features making a comeback after years of absence. Nevertheless, the return of these ports is likely to make amends with some MacBook Pro users who have felt that their needs have been ignored since 2016, and the update will more clearly distinguish the "Pro" machines from the MacBook Air. For more on the upcoming 2021 MacBook Pro models, see our "Everything We Know" guide.