App Store, Apple Music and Other Services Experiencing Issues [Update: Resolved]
The App Store, Apple Books, Apple Music, ‌Apple Music‌ radio, iTunes Store, and iCloud Storage Upgrades are all experiencing downtime right now, according to Apple's System Status page.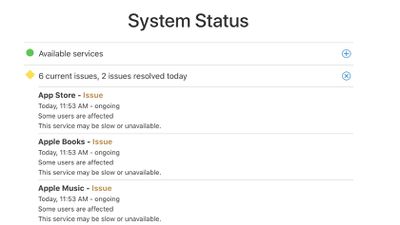 Affected services may be slow or unavailable, and there are a number of complaints about the ‌App Store‌ and ‌Apple Music‌ on Twitter.
The outage began at 11:53 a.m. Pacific Time, and we'll update this article when Apple addresses the issue and the services are back up and functioning as normal.
Update: The issue has now been fixed.