New iMac Coming in Five Retro Colors
Apple's upcoming 2021 iMac models will come in five color options, mirroring the colors of the fourth-generation iPad Air and harking back to the original ‌iMac‌, according to hit-and-miss leaker Jon Prosser.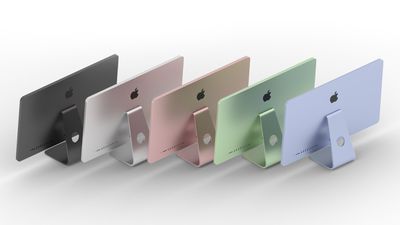 Prosser explained that the redesigned iMacs will feature color options in Silver, Space Gray, Green, Sky Blue, and Rose Gold.
The range of color options apparently aims to capitalize on nostalgia for the original ‌iMac‌, which came in a selection of iconic colors such as lime, strawberry, blueberry, grape, and tangerine.


Redesigned iMacs with slimmer bezels and Apple silicon chips have been expected for some time, due to replace the existing 21.5 and 27-inch models. At least one of the new models will measure in at 23 to 24 inches, but it is not clear what size the second ‌iMac‌ will be. A 23 or 24 inch ‌iMac‌ would likely be the same size as the current 21.5-inch ‌iMac‌ physically, with the larger display enabled through reduced bezels.


The overhauled design is expected to look quite similar to thePro Display XDR monitor that Apple released in 2019, with no "chin" at the bottom of the display. Instead of a curved rear design, the new iMacs will feature a flat back, and prior rumors have suggested the 2021 iMacs will feature "iPad Pro design language."
Apple plans to equip the 2021 iMacs with next-generation Apple silicon chips, potentially with as many as 16 power cores and four efficiency cores, but higher-end models could have as many as 32 high-performance cores. Apple is also believed to be working on improved GPU technology and is testing 16 and 32-core graphics components.
The new iMacs are expected to be released in spring to fall 2021, and it is not yet clear if both model sizes will come out at the same time.