Apple Event: Full Transcript of iPhone 12 and HomePod Mini Announcements
Apple's virtual "Hi, Speed" event kicked off today at 10:00 a.m. Pacific Time, with Apple expected to debut four new models as part of its iPhone 12 lineup, as well as a new HomePod mini.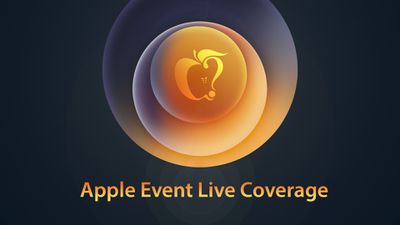 Apple did announce several items at today's event:

Apple provided a live video stream on its website, on YouTube, and in the company's TV app across its platforms.
We've provided a summary video of the event which covers all the announcements in 7 minutes:
Sign up for our newsletter to keep up with Apple news and rumors.

Live blog transcript ahead...
9:10 am: The event kicks off in just 50 minutes, so start thinking about getting your snacks and drinks ready and get settled in for all of the festivities.
9:41 am: With 20 minutes remaining until the show begins, more than 180,000 people are waiting for the event to begin on YouTube alone.
9:57 am: With less than five minutes to go, nearly half a million people are ready to watch on YouTube.

10:00 am: We're beginning with artistic video of Apple Park at sunrise.

10:01 am: "It's a good day for dreaming." We zoom in on Tim Cook in black long-sleeve shirt from the Steve Jobs theater.
10:01 am: Reiterating the items launched last month.

10:01 am: "An exciting new product for the home we know you're going to love."
10:02 am: "Must provide a truly great experience."
10:02 am: Three key attributes:
Must be easy to use from initial setup to the way you interact with it every day.
Design our products to work better together.
Design them to be secure and protect your privacy. You should be in control of how your personal data is used.
10:03 am: We did all these things when we built HomePod. Newest addition to ‌HomePod‌ family...
10:03 am: It... looks like the leak!
10:03 am: This is ‌HomePod‌ Mini!

10:04 am: Bob Borchers is now in a house showing off ‌HomePod‌ Mini.

10:04 am: Backlit touch surface with controls for volume, play/pause and glows when Siri is invoked.
10:04 am: Amazing sound, intelligent assistant, smart home, and privacy and security.

10:05 am: Now going to Dave Wilkes Jr. to break down the device.
10:05 am: Full-range dynamic driver and two passive radiators for bass response. Acoustic waveguide to send 360-degree sound.
10:05 am: Apple S5 chip on-board. "Computational audio."
10:05 am: Complex tuning models to optimize loudness and dynamic range.

10:06 am: Not just about breakthrough audio quality, but syncing multiple ‌HomePod‌ Mini speakers around the house. Place two in the same room and they'll intelligently become a stereo pair.


10:07 am: Later this year, there's a new handoff experience that's magical. ‌HomePod‌ Mini will understand when your ‌iPhone‌ is nearby. You'll get visual, auto and haptic effects so it feels like your devices are physically connected. Listen to Apple Music, Podcasts, iHeartRadio, Radio.com, TuneIn, Pandora and Amazon.

10:08 am: ‌Siri‌ keeps getting better. In the past three years, speech recognition is twice as accurate. ‌Siri‌ and ‌HomePod‌ Mini do everything you'd expect from a smart speaker.
10:08 am: "Hey ‌Siri‌, what's my update?" Gives info from calendar, weather, reminders, etc.

10:09 am: Can recognize voices of each member of the household.
10:09 am: Can send suggestions from ‌HomePod‌ to CarPlay automatically.
10:10 am: Integrates with HomeKit.
10:10 am: New "Intercom" feature to send messages from one ‌HomePod‌ to another.

10:11 am: Can broadcast audio messages through the house, and through ‌iPhone‌, iPad, Apple Watch, and ‌CarPlay‌.

10:12 am: Reiterating privacy, noting that you can opt out of Apple storing recordings.
10:12 am: White and Space Grey, available for $99. Order November 6, shipping November 16.


10:13 am: Now back to Tim to talk about ‌iPhone‌.
10:13 am: ‌iPhone‌ has led the industry in customer satisfaction every year since it was introduced.
10:14 am: The next-generation of ‌iPhone‌ is here. Today is the beginning of a new era for ‌iPhone‌. "We're bringing 5G to ‌iPhone‌."

10:15 am: Touting the advantages of 5G, including super fast, more advanced, and advantages of privacy and security because you won't need to connect to public hotspots.
10:15 am: "5G is the most exciting step yet."
10:15 am: What you may not know about is the incredible collaboration between Apple and our carrier partners around the world.
10:16 am: Chairman and CEO of Verizon, Hans Vestberg, on stage.
10:16 am: "5G just got real"
10:16 am: Can access Verizon's 5G Ultra Wideband network. mmWave spectrum.
10:17 am: "Our 5G network gives double the peak download speeds, over 4.0Gbps in ideal conditions, and will go even higher over time." 200Mbps upload speeds in ideal conditions.
10:17 am: Building it to remove bottlenecks in crowded places.
10:17 am: "One day, we'll be safely back in those places." Doubling 5G-enabled stadiums, venues, airports, train stations, etc.

10:18 am: 5G Ultra Wideband gives improved latency, too.
10:19 am: In addition to 5G Ultra Wideband network, extensive 5G network — turning on 5G nationwide network across 1800 cities and towns. 200 million people. 5G nationwide plus 5G Ultra Wideband.

10:19 am: "We can finally say '5G just got real.'"
10:20 am: Been a while since we've seen a carrier CEO on stage.
10:20 am: 5G coming to entire lineup of new ‌iPhone‌ models today.

10:20 am: Introducing ‌iPhone‌ 12.

10:21 am: Smooth, flat edges with aluminum frame and glass.
10:21 am: ‌iPhone‌ rearchitected to fit technologies in smaller form factors. All-new antennas around the aluminum frame. Five colors, black, white, product red, green, blue.

10:22 am: 6.1-inch display, but smaller borders so smaller ‌iPhone‌. 11% thinner, 15% smaller in volume, and 16% lighter.
10:22 am: Super Retina XDR display.

10:22 am: 2x pixels. 2532x1170
10:23 am: HDR formats supported, too. Cover glass from Corning, on new cutting-edge material: Ceramic Shield. "Goes beyond glass" by adding high-temperature crystallization step.
10:24 am: Tough and optically clear.
10:24 am: Tougher than any smartphone glass.
10:24 am: 4x better drop performance.

10:24 am: Biggest jump in reliability we've ever had on ‌iPhone‌.
10:25 am: Now we're in an anechoic chamber.
10:25 am: Custom 5G antennas and radio components.
10:25 am: Including the most 5G bands of any smartphone.

10:25 am: Silicon to software to take advantage of 5G. Optimized iOS frameworks to apps can get the benefit of 5G without using more power.
10:26 am: Smart Data Mode — when your ‌iPhone‌ doesn't need 5G speeds, it drops to LTE to save battery. But instantly launches 5G when necessary.

10:27 am: Collaborated with carrier partners to improve call quality, speeds, etc. Up to 3.5 Gbps in ideal conditions in testing. Speeds will vary by carrier and region.
In US, ‌iPhone‌ 12 supports mmWave, including Verizon's Ultra Wideband network.
10:27 am: 4.0 Gbps in ideal conditions and 1Gbps in typical conditions on Verizon.
10:27 am: Now diving into the chip. A14 Bionic launched last month on the ‌iPad‌.

10:28 am: A14 Bionic built on 5nm process technology - first smartphone to use 5nm.
10:28 am: 11.8 billion transistors, up 40% from A13 Bionic.
10:29 am: 6-core CPU, fastest in any smartphone. 50% faster.
4-core GPU. Fastest in any smartphone. 50% faster than any other smartphone chip. There's a trend here.
10:30 am: Neural engine to 16 cores, and 80% faster than before. 11 trillion operations per second. Machine Learning accelerators are 70% faster.

10:30 am: "Console-quality games."
10:30 am: Later this year, one of the best games of all-time is coming to ‌iPhone‌.
10:30 am: League of Legends.

10:31 am: League of Legends is the world's most popular PC game, but it's coming to iOS as League of Legends Wild Rift.

10:32 am: Dual-camera system with ultra wide 12MP camera, plus new 12MP wide camera with f/1.6 aperture.

10:33 am: First seven-element lens. 27% improvement in low-light performance.
10:34 am: Using machine learning and smart HDR via computational photography. Night mode gets better, thanks to faster aperture and night mode expanded to ultra-wide and front-camera.

10:34 am: Adding Night mode time-lapse when using a tripod.
10:36 am: We love wireless charging but we want to improve the experience.
10:36 am: With ‌iPhone‌ 12, we're making this so much better.

10:36 am: Showing off magnetic cases and other options... "MagSafe for ‌iPhone‌"
10:36 am: Starts by improving the wireless charging experience.
10:37 am: Has magnets optimized for alignment and efficiency. 15W of charging.

10:38 am: Can recognize and provide a better experience for accessories. New ecosystem of magnetic cases to snap on and off the phone. Can use ‌MagSafe‌ charger on top of accessories. ‌MagSafe‌ wallet that snaps on top of the phone. ‌MagSafe‌ Duo Charger for ‌iPhone‌ and Apple Watch.
10:38 am: Belkin is working on new accessories including car mount and multi-charger dock.

10:39 am: Big environmental news for ‌iPhone‌. Apple is carbon neutral for global operations. Offices, data centers, retail stores. By 2030, Apple wants to have net zero climate impact including manufacturing supply chain and product life cycles.
10:39 am: 100% recycled rare earth elements in the magnets, in camera, haptics, and ‌MagSafe‌.

10:40 am: Customers already have 700 million Lightning headphones, and many customers have moved to wireless experience. 2 billion Apple power adapters out in the world, plus billions of third-party adapters. Removing these items from the ‌iPhone‌ box.
10:40 am: Smaller, lighter ‌iPhone‌ box, too. 70% more products on a shipping pallet.
10:40 am: Should cut 2 million metric tons of carbon emissions annually. Like removing 450,000 cars from the road per year.
10:41 am: USB-C to Lightning cable in the box.

10:42 am: ‌iPhone‌ 12 Mini!
10:42 am: Smaller and lighter than 4.7" model like ‌iPhone‌ 8, but with 5.4-inch edge-to-edge display.


10:42 am: Same features as ‌iPhone‌ 12, only difference is screen size. Smallest, thinnest, lightest 5G phone in the world.

10:44 am: iPhone 12 mini starts at $699 and $799 for ‌iPhone‌ 12.

10:45 am: Verizon, trade in ‌iPhone‌ 10 or newer and get ‌iPhone‌ 12 for $15/mo for 24 months, or ‌iPhone 12 mini‌ for $12/mo for 24 months.
10:46 am: Now ‌iPhone‌ 12 Pro.

10:46 am: Similar design but with three-camera setup.


10:47 am: Premium materials, including stainless steel band and precision-milled back glass. Silver, graphite, gold, Pacific Blue.

10:47 am: Ceramic Shield, water and dust resistant to IP68. Water submersion to 6 meters for 30 minutes.
10:48 am: 5.8-inch to 6.1-inch display. iPhone 12 Pro Max goes from 6.5-inch to 6.7-inch. Form factor is nearly identical even with larger display.

10:48 am: 2778x1284 on the big phone.


10:49 am: Pro performance, promoting computational photography up front. Deep Fusion, using all compute engines of A14.
10:49 am: Deep Fusion coming to all four cameras, including front-facing camera.
10:50 am: Pro camera system that is unlike any other device. Ultra wide 12MP camera, wide 12MP with f/1.6 aperture and 7-element lens, and 52mm telephoto camera.

10:51 am: Brand-new telephoto camera with 65mm focal length. Optical zoom in 2.5x.

10:51 am: New wide sensor, 47% larger with 1.7 micron pixels.
10:51 am: 87% improvement in low light.
10:52 am: New system for optical image stabilization. Sensor-shift approach. Stabilizes the sensor rather than the lens.

10:52 am: Stabilized exposure times of up to two-seconds in handheld shots.
10:53 am: New feature that gives control of shooting in RAW with the power of our computational photography. Apple ProRAW. Coming in ‌iPhone‌ Camera app for ‌iPhone‌ 12 Pro later this year.
10:54 am: New pipeline that takes components of the processing in CPU/GPU/ISP/Neutral Engine and combines that into a new image file.
10:54 am: Full creative control over color, detail and dynamic range.

10:55 am: Can edit Apple ProRAW in Photos app or other professional editing apps. API for third-party apps to capture images is coming as well.


10:57 am: HDR video recording is coming to ‌iPhone‌. Record in 10-bit HDR, 700 million colors or 60x more colors than before. Live preview of HDR content. First camera to record in Dolby Vision HDR. Grading each frame in Dolby Vision live while recording. 4k60fps
10:57 am: ‌iPhone‌ 12 Pro can edit direct in Dolby Vision.
10:58 am: Showing a film with a professional cinematographer talking about how the "next great film director is already making movies" with an ‌iPhone‌.
10:58 am: Capture, edit, share Dolby Vision video.
10:59 am: Adding LiDAR scanner to the ‌iPhone‌ 12 Pro.
10:59 am: Builds a precise depth map of a scene.

11:00 am: Instant AR and "endless opportunities" within apps.
11:00 am: LiDAR can be used for autofocus in low-light scenes.
11:00 am: Faster autofocus for photos and videos. Focus time in low-light scenes improved 6x.
11:01 am: Talking up 5G to download diagnostic scans for on-call doctors.


11:03 am: Showing a movie about the ‌iPhone‌ 12 Pro.


11:05 am: Keeping the price the same. ‌iPhone‌ 12 Pro starts at $999. Doubling starting capacity to 128GB — 256/512GB. Pro Max starts at $1099.

11:06 am: ‌iPhone‌ 12 and Pro available for preorder Friday October 16, and available October 23. Pro Max available for preorder November 6, shipping November 13.

11:06 am: "What an amazing day!" says Tim.

11:07 am: "This marks the start of a new era for ‌iPhone‌."
11:08 am: "Thank you for joining us. Stay safe, and have a great day."