Live 2019 iPhone Event Coverage: 'By Innovation Only'
Apple's "By innovation only" event at the Steve Jobs Theater at Apple Park begins at 10:00 a.m. Pacific Time, with Apple expected to show off new iPhone and Apple Watch models.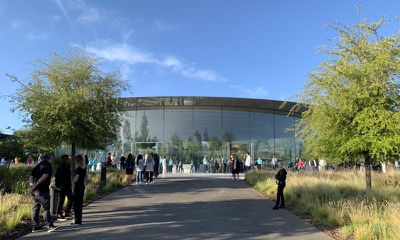 We should also be hearing about final details and release dates for Apple's upcoming software updates, including iOS and iPadOS 13, macOS Catalina, watchOS 6, and tvOS 13. Apple's services such as
Apple Arcade
and
Apple TV+
are another likely topic for discussion, and we could see additional hardware announcements such as a 10.2-inch
iPad
, Apple's rumored Tile-like item tracker and an updated
Apple TV
.
Apple is providing a live video stream on its website, via the Apple Events app on ‌Apple TV‌, on Twitter, and for the first time, on YouTube.
In addition to Apple's video stream, we will be updating this article with live blog coverage—no need to refresh—and issuing Twitter updates through our @MacRumorsLive account as the keynote unfolds.
Highlights from the event and separate news stories regarding today's announcements will go out through our @MacRumors account.
Live blog transcript ahead...

8:59 am: Members of the media have received their badges and are milling around outside Steve Jobs Theater and in the lobby, taking advantage of breakfast before doors to the theater open.


9:05 am: Breakfast photo via Shara Tibken
9:06 am: As noted by Neil Cybart, Steve Wozniak is in attendance.


9:09 am: Woz photo via Harry McCracken
9:34 am: Media are now being admitted into the theater.


9:34 am: Photo via Joanna Stern
9:47 am: The Special Event stream is live on Apple's YouTube channel
9:48 am: There is a morphing, animated Apple logo floating over 123456 by Fitz and The Tantrums. Helpfully, Siri identifies this song as one-hundred-twenty-three-thousand-four-hundred-fifty-six.
9:51 am: With ten minutes to go, the ‌Apple TV‌ livestream is up as well.
10:00 am: One minute to go! Apple's first-ever YouTube livestream has 486,000 people watching a floating Apple logo.
10:00 am: We're starting with a pan over the crowd... with many journalists holding laptops.
10:01 am: There's an animated video with a number of logos and imagery showcasing different apps and technologies, from Touch ID to the Workout app to the heart rate monitor on the Apple Watch.


10:02 am: "Give people wonderful tools and they'll do wonderful things."
10:02 am: Tim Cook comes out in black jeans and a black sweater.


10:02 am: "Good morning! Good morning, and welcome to the Steve Jobs theater. We've always believed that by giving people wonderful tools, you enable people to do wonderful things."
10:03 am: "We have a huge morning planned for you, with some truly big announcements."
10:03 am: Hardware. Software. Services.
10:03 am: "So I'm going to dispense of my usual updates, so I'm going to get right into it, beginning with the App Store."


10:04 am: Ann Thai on stage to introduce ‌Apple Arcade‌.


10:04 am: Subscription lets you download and play any ‌Apple Arcade‌ game right from the ‌App Store‌.
10:05 am: New games added every month.
10:05 am: We are excited to show you a few games today.
10:05 am: Konami on stage to demo one of their games.


10:06 am: Frogger in Toy Town. He's not running across a road... but across a bathroom with rolling toilet paper and other toys.
10:06 am: Dozens of different outfits for you to put Frogger in.


10:07 am: Frogger in Toy Town will be available at launch "exclusively on ‌Apple Arcade‌."
10:08 am: Now, Capcom. "Console quality graphics and gameplay to a whole new audience."
10:08 am: An underwater exploration game.


10:09 am: Music and sound effects all recorded underwater.
10:09 am: Battling underwater critters, managing oxygen, and more.
10:10 am: Annapurna Interactive. Sayonara Wild Hearts — we like to think of it as a playable music video.


10:11 am: Rhythm based tapping and high-speed racing. Perspective changes between battle and racing.
10:12 am: Two swords just combined into a jet. Things are happening.


10:12 am: It'll be on ‌Apple Arcade‌.
10:12 am: ‌Apple Arcade‌ is available on September 19.
10:12 am: 150 countries around the world, more than 100 games in the launch catalog.
10:13 am: $4.99/month for family subscription.


10:13 am: 1 month free trial
10:13 am: Back to Tim. "‌Apple Arcade‌ is a gaming service unlike any other out there."
10:13 am: ‌Apple TV+‌


10:15 am: Talking about the trailers for some of the new shows, including The Morning Show.


10:15 am: New drama: See. Jason Momoa stars, takes place years in the future, in a world without sight. Premiere trailer
10:18 am: Snoopy In Space!


10:19 am: ‌Apple TV+‌ - First shows available November 1
10:19 am: More Apple Originals coming every month. ‌Apple TV+‌ available in more than 100 countries at launch.
10:19 am: $4.99/month
10:19 am: For a family subscription.


10:19 am: Starting today, when you buy an ‌iPhone‌, ‌iPad‌, Mac, or ‌Apple TV‌, you get 1 year free.
10:20 am: So basically, if you buy one device a year, you get ‌Apple TV+‌ free.
10:20 am: Now time to talk about the ‌iPad‌.


10:21 am: Talking up the new iPadOS
10:22 am: To tell you about the newest ‌iPad‌, Greg Joswiak is on stage.


10:22 am: Replacing 6th-generation ‌iPad‌ with a new... 7th-generation ‌iPad‌.


10:23 am: 10.2-inch Retina display.
10:24 am: A10 Fusion chip (which is a few years old)
10:25 am: iPadOS truly expands what you can do with this ‌iPad‌. Demonstrating multitasking with Slideover, Spaces, etc.



10:27 am: Made from 100% recycled aluminum for the first time.
10:27 am: Starts at $329


10:28 am: "We can't think of another device that delivers this much value." Educational customers pay $299. Starts shipping September 30, orders start today.
10:28 am: Back to Tim.


10:28 am: Apple Watch


10:29 am: There's a video to share stories of how the Apple Watch impacts people's lives.
10:29 am: Dear Tim, to tcook@apple.com, To Apple


10:30 am: Showing people talking about medical incidents where the Apple Watch's health feature were used. Falls, elevated heart rates, etc.
10:31 am: An emergency C-section following an elevated heart rate notification. A notification of a baby crying in the crib where a deaf father gets a notification on his Watch.


10:33 am: "It's truly inspiring to see the difference that the Apple Watch is making."


10:34 am: Sumbul Desai on stage to talk about health research.


10:34 am: Three new Health Research studies coming following atrial fibrillation study.


10:35 am: Apple Women's Health study will study how menstrual cycles can inform screening for infertility and osteoporosis.


10:35 am: Apple Heart & Movement Study will study how metrics from Apple Watch will serve as early warning signs.
10:36 am: Apple Research app available to help people enroll, available in the US later this year.


10:36 am: Innovation has been the core of the Apple Watch. From life changing to potentially life saving.
10:37 am: Stan Ng to talk about what's next with the Apple Watch.
10:37 am: The next generation of Apple Watch.
10:38 am: Apple Watch Series 5
10:38 am: "An innovative new display that is always on."


10:38 am: With Series 5, you'll always be able to see your time and complications at a lower brightness.


10:38 am: Low Temperature Polysilicon Oxide display. LTPO.
10:39 am: Dynamically refresh, from 60 hertz to 1 hertz.
10:39 am: Low-power display driver, power management, and ambient light sensor.


10:39 am: Always on display with all-day 18-hour battery life
10:39 am: All watch faces have been tuned for the new display.
10:39 am: Workout displays are updated too.


10:40 am: Built-in compass.
10:40 am: Updated Maps app will show you which way you're facing. Can add Compass to watch face. Will show heading, latitude, longitude, current elevation, and incline.


10:41 am: Emergency SOS feature now includes international emergency calling on every cellular Watch.


10:42 am: Widest assortment of case finishes. Aluminum: Silver, gold, space grey. 100% recycled aluminum.
10:42 am: Stainless steel: Gold, Space Black, Polished.


10:42 am: All-new Titanium, brushed silver and brushed space black.
10:42 am: Ceramic as well, in white.


10:43 am: Apple Watch Nike models, with sport bands and reflective sport loops. New Hermes models with color blocked bands.
10:43 am: Hermes models in black, with space black stainless cases with black noir leather bands.


10:44 am: Series 5 GPS models start at $399.
10:44 am: $499 for GPS + Cellular
10:44 am: Order starting today
10:44 am: Available September 20
10:44 am: Series 3 sticking around


10:44 am: Starting at $199 for GPS
10:46 am: A new video showing what the things the Watch can do. It tells time and...
10:46 am: A lot of things.
10:47 am: "This watch tells time. Among other things."


10:47 am: Time for ‌iPhone‌.


10:48 am: Last year we launched three new iPhones. ‌iPhone‌ XR became the most popular ‌iPhone‌ and the most popular smartphone in the world.
10:48 am: Combined ‌iPhone‌ XR and XS have combined 99% customer satisfaction. This is the highest in the industry.
10:48 am: We focus on technologies that matter most in their lives.
10:48 am: Today I am thrilled to share the newest ‌iPhone‌.


10:49 am: A new ‌iPhone‌, with square, two-camera look. The ‌iPhone‌ 11.
10:49 am: Next-generation of ‌iPhone‌. A number of colors.


10:50 am: ‌iPhone‌ 11 has anodized aluminum and glass design. Toughest glass ever in a smartphone on front and back.
10:50 am: Six new colors, with new purple, white, yellow, green, black, and Product (RED)


10:50 am: 6.1" Liquid Retina display, True Tone, wide color, Tap to wake, Haptic Touch.
10:50 am: Still a notch.


10:51 am: Spatial audio, with immersive theater-like experience. Dolby Atmos
10:51 am: ‌iPhone‌ is the world's most popular camera.
10:51 am: Dual camera system with 12MP wide camera.
10:51 am: 12MP Ultra Wide Camera, 120-degree field of view.


10:52 am: Doing optical zoom out, with immersive camera interface.


10:53 am: Updated image pipeline. Added semantic rendering, to help people look even better. Next-gen smart HDR.
10:53 am: Multi-scale tone mapping to treat highlights different in different parts of the image.
10:53 am: Stereoscopic depth to take portraits of pets.
10:54 am: New Portrait Lighting effect. High-key mono.


10:54 am: Night Mode for very-low light environments.
10:54 am: Comes on automatically when it's dark enough to brighten photos and reduce noise.


10:55 am: Now showing a video shot entirely on ‌iPhone‌ 11 with wide and ultra-wide cameras.
10:55 am: Showing some classic cars driving across salt flats.
10:56 am: When taking video, you can tap to switch to the ultra wide, or use the zoom wheel to transition between cameras.


10:57 am: QuickTake is back! Simply tap and hold the shutter button when taking a picture to take a video.
10:57 am: Highest-quality video ever in a smartphone.
10:57 am: 36% brighter True Tone flash.


10:58 am: 12MP TrueDepth front camera has wider sensor. 4k video on front camera, in 4k60 and 4k30 with extended dynamic range. Slo-mo video on front camera too.
10:59 am: Slofies.
10:59 am: No really.
10:59 am: A13 Bionic chip.


11:00 am: A13 is the fastest CPU ever in a smartphone.


11:00 am: Also the fastest GPU ever in a smartphone.


11:01 am: New game from Giant Network/TipsWorks.
11:01 am: Pascal's wager, dark-fantasy RPG.


11:02 am: Fantasy monsters and fighting.
11:04 am: Preorder of Pascal's Wager exclusively on the ‌App Store‌ next month.
11:04 am: Battery life. Last year, ‌iPhone‌ XR had longest battery life in an ‌iPhone‌ ever. With advancements, it'll still have 1 hour more than ‌iPhone‌ XR.


11:06 am: There's a video promoting the ‌iPhone‌ 11. Lots of phones dropping and having drinks spilled on them. Also more Slofies.
11:07 am: ‌iPhone‌ 11 starting at $699


11:08 am: For our customers that want the most sophisticated technology that really pushes the limits, we've created something truly special.
11:09 am: ‌iPhone‌ 11 Pro


11:09 am: Phil Schiller on stage to talk about them.
11:09 am: This is the first phone that we've called Pro


11:10 am: Surgical grade stainless steel. Back is a single piece of machined glass.
11:10 am: Matte textured finish. Comes in Midnight Green, Space Grey, Silver, Gold.
11:11 am: iPhone 11 Pro Max, and ‌iPhone‌ 11 Pro.


11:11 am: OLED panel with 2 million : 1 contrast ratio. True Tone. ‌Haptic Touch‌, 1200 nits but 15% more energy efficient.


11:12 am: Spatial Audio Sound. HDR10, Dolby Vision, Dolby Atmos. All that is the Super Retina XDR display.


11:13 am: Now going deeper into the A13 Bionic. Machine Learning and Low-Power Design.
11:13 am: It's really fast at Machine Learning.
11:14 am: 1 trillion operations per second.


11:14 am: "The best machine learning platform in any smartphone"
11:15 am: Most efficient chip to date. 7nm transistor. 8.5 billion transistors.


11:16 am: Performance and battery life are improved by a lot of things.
11:17 am: Pro battery, too!
11:17 am: ‌iPhone‌ 11 Pro lasts 4 hours longer than ‌iPhone‌ Xs
11:17 am: ‌iPhone 11 Pro Max‌ lasts 5 hours longer than ‌iPhone‌ XS Max


11:17 am: Fast charge 18-watt adapter in the box.


11:18 am: 12MP wide camera with f/1.9 aperture. 12MP with f/2.0 aperture. Ultra wide f/2.4 and 120 field of view.


11:18 am: They work together with image signal processor.
11:19 am: Six shots that professional photographers have taken.



11:22 am: Sneak peek of a new feature coming in the camera that will be coming in a software update this fall.
11:22 am: Uses neural engine of A13 Bionic to create a new kind of image processing system: Deep Fusion
11:23 am: Unlike anything possible with an ‌iPhone‌ camera before. Shoots 9 images before you press the shutter. Four short images and four secondary images. When you press the shutter, it takes one longer exposure. Combines long and short exposure images, combining pixel by pixel to optimize for detail and low noise.
11:23 am: Computational photography mad science.


11:24 am: Video: 4k60fps XDR video.
11:24 am: A black-and-white movie shot entirely on ‌iPhone‌ 11 Pro.
11:25 am: Now it's in color.
11:25 am: It looks, unsurprisingly, gorgeous.
11:26 am: Consistent image capture across all three cameras. Cameras are paired at the factory, calibrated for color and exposure. Takes data in real time and primes the other cameras for auto-focus and auto-exposure and color temperature for transitioning between cameras.
11:26 am: New advanced video editing features built into the photos app, editing for exposure, color temperature, cropping and scaling.



11:27 am: There's a new font in the camera app, too.
11:28 am: Showing Filmic app, with the first theatrical trailer shot entirely on an ‌iPhone‌.



11:29 am: Allows you to shoot with multiple cameras at the same time. Twice as much coverage on the same take. Compound overlay showing primary and secondary cameras.
11:30 am: Even combine front-facing and rear facing cameras, putting the audience in the middle of a conversation with two people.


11:31 am: A new design video showing off the ‌iPhone‌ 11 Pro.


11:33 am: Face ID works from greater angles and is faster.
11:34 am: There's a new line of cases for ‌iPhone‌ 11 and ‌iPhone‌ 11 Pro, including clear cases.


11:34 am: ‌iPhone‌ 11 Pro starts at $999. ‌iPhone 11 Pro Max‌ starts at $1099
11:35 am: Preorder starting Friday at 5AM PDT / 8AM EDT


11:35 am: Sticking around: ‌iPhone‌ XR starts at $599, ‌iPhone‌ 8 at $449.


11:36 am: Now... Apple Retail. Deirdre O'Brien on stage.
11:37 am: With Apple Watch Series 5, you can choose and pair any case with any band. Available in stores and online.
11:37 am: 1,000 different ways to represent your own personal style.


11:38 am: Apple Trade In: Can use your current ‌iPhone‌ as credit towards a new ‌iPhone‌.
11:38 am: Low monthly payments in a number of countries.


11:39 am: On September 20, the same day our new iPhones and Apple Watches arrive, we are reopening Apple Fifth Avenue.


11:39 am: Newly expanded public plaza will be a wonderful place for the community to gather. Inside everything is completely transformed. Increased the height and doubled the size.


11:40 am: Tim is back: What an exciting morning! Hope you've had as much fun as I have.


11:41 am: Our mission at Apple has always been to design products that empower people and enrich people's lives. To put technologies in your hands and see all the wonderful things that you'll do with them.
11:41 am: For those of you here today with us, we'd like to invite you to experience them in the hands on area upstairs. And I'd like to thank everyone at Apple for doing the best work of their lives for bringing these products and services to market.
11:42 am: "Thank you, and have a great day."