Apple Says Trump's Tariffs Will Reduce Its Economic Contributions and Global Competitiveness
Apple has urged the Trump administration not to proceed with tariffs of up to 25 percent on a fourth set of goods imported from China, which would impact nearly all of its products, including the iPhone, iPad, Mac, Apple Watch, Apple TV, AirPods, Beats, HomePod, batteries, repair parts, and more.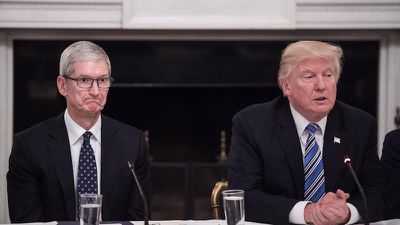 In a letter sent to United States Trade Representative Robert Lighthizer [PDF] this week, Apple warned that the tariffs would reduce the company's contributions to the U.S. economy and weigh on its global competitiveness:
U.S. tariffs on Apple's products would result in a reduction of Apple's U.S. economic contribution.

U.S. tariffs would also weigh on Apple's global competitiveness. The Chinese producers we compete with in global markets do not have a significant presence in the U.S. market, and so would not be impacted by U.S. tariffs. Neither would our other major non-U.S. competitors. A U.S. tariff would, therefore, tilt the playing field in favor of our global competitors.

We urge you not to proceed with these tariffs. Thank you for your consideration of our comments.
Apple outlined many of its economic contributions in the letter, referring to itself as a "proud U.S. company" that is both the largest corporate taxpayer and one of the largest job creators in the country:
Apple is a proud U.S. company and one of the largest job creators in the United States. We are responsible for over 2 million jobs across all 50 states, including Apple's direct employees, employees at our manufacturing and retail partners, and Americans who make their living in the vibrant and growing app economy.

In 2018, after the passage of tax reform in the U.S., we announced our intention to make a total direct contribution to the U.S. economy of over $350 billion over 5 years and we are pleased to report that we are on track to achieve this contribution. We are opening several new sites and adding new jobs to our U.S. employee base.

Apple is also the largest U.S. corporate taxpayer to the U.S. Treasury and pays billions more each year in local property, sales, and employee taxes.

Finally, Apple's products are used by American families, students, businesses, government agencies, schools, and hospitals to communicate, teach, improve health outcomes, and enhance creativity and enterprise.
Last month, analysts at investment bank J.P. Morgan estimated that the tariffs could result in a 14 percent increase in the retail price of an iPhone XS, pushing the cost of the device from $999 to $1,142. However, the company could also choose to absorb the impact of the tariffs on a temporary basis.
The letter was earlier reported by CNBC.
Note: Due to the political nature of the discussion regarding this topic, the discussion thread is located in our Politics, Religion, Social Issues forum. All forum members and site visitors are welcome to read and follow the thread, but posting is limited to forum members with at least 100 posts.