Proposed Tariffs Could Lead to 14% Increase in U.S. iPhone Prices
While U.S. tariffs on Apple's chargers and cases are already at 25 percent, the company's main products like the iPhone have so far escaped the extra taxes. That may soon change, however, as the Office of the U.S. Trade Representative has begun the approval process to subject an additional $300 billion in Chinese-made products, including iPhones, to tariffs that could go into effect in late June.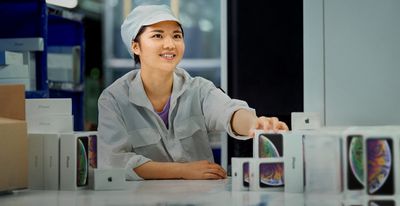 The proposed tariffs are largely a bargaining chip and could end up being avoided if deals can be struck between the Trump administration and the Chinese government, but if the tariffs were to take effect, their impact on Apple's business would be substantial. Analysts cited by CNBC outline Apple's options, with J.P. Morgan estimating that the tariffs would be equivalent an estimated 14 percent increase in the retail price of an ‌iPhone‌ XS, pushing the cost from $999 to $1,142.
"We estimate a price increase of around 14% is required to absorb the impact of a 25% tariff, keeping margin dollars for all players in the supply chain constant," J.P. Morgan said in a note to clients Tuesday.
There are a variety of ways that impact could be handled, including price increases for consumers, Apple absorbing the tariffs, suppliers helping absorb the tariffs by cutting the prices they charge Apple, or some combination of those possibilities.
Looking further down the road, some have suggested Apple could move ‌iPhone‌ production out of China in order to avoid tariffs, either to other countries in the region or to the United States. Such a move would require massive investment and take a substantial amount of time, however, and Bank of America Merrill Lynch estimates that ‌iPhone‌ prices would have to increase by around 20 percent if production was moved to the U.S.
"We estimate the incremental cost of manufacturing iPhones in the U.S. could be 15-25%, and, if passed on to consumers could lead to demand destruction, in our view," the Bank of America said in a note.
Apple's stock is down about 10 percent over the past two weeks as concerns over the Chinese trade dispute have roiled the markets in general and Apple in particular. Yesterday's Supreme Court ruling that allowed a lawsuit claiming Apple has monopolized the retail app market with the App Store to proceed also appears to have contributed to the recent drop in Apple's stock price.
Note: Due to the political nature of the discussion regarding this topic, the discussion thread is located in our Politics, Religion, Social Issues forum. All forum members and site visitors are welcome to read and follow the thread, but posting is limited to forum members with at least 100 posts.