Apple Retail Employees Vent Frustrations About Stores Becoming Less 'Shopper-Friendly' in Recent Years
A new article by Bloomberg has highlighted some customer and employee frustrations with the state of Apple's retail business, particularly in the wake of changes introduced by former retail chief Angela Ahrendts. According to some current and former Apple employees, the retail stores have become more focused on branding than satisfying shoppers, leading to more complaints lodged against some stores.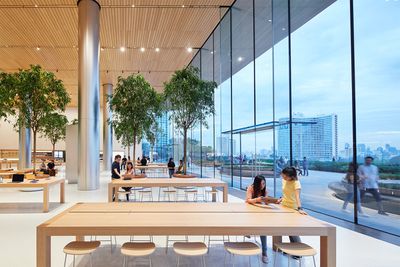 Ahrendts left Apple last month after first joining the company in 2014, and Apple executive Deirdre O'Brien has succeeded Ahrendts in the retail position. The shake-up happened as Apple's retail business faces more and more issues alongside slowing iPhone sales.
O'Brien is now tasked with revitalizing Apple's retail business, even if that means moving away from the idea of Apple retail stores as social gathering places, which was the initiative spearheaded by Ahrendts. The former retail chief built stores with less clearly defined locations for checking out and speaking to Apple's Geniuses, in an effort to promote the company as a luxury shopping brand amid the launch of the first Apple Watch and its $17,000 Apple Watch Edition models.
According to Bloomberg's sources, this led to customer confusion and was accompanied by other issues, like less skilled employees and the removal of the traditional Genius Bar at some stores.

The overhaul of the Genius Bar has been especially controversial. Customers looking for technical advice or repairs must now check in with an employee, who types their request into an iPad. Then when a Genius is free, he or she must find the customer wherever they happen to be in the store. Ahrendts was determined to get rid of lineups, but now the stores are often crowded with people waiting for their iPhones to be fixed or batteries swapped out.

Apple was "trying to streamline things," says one employee, "but in the process made things more difficult for some customers."
One former Apple executive said that O'Brien is looking to borrow from the past and break up Apple stores into more clearly defined sections. These include areas that promote Apple's growing services business, like Apple Music and Apple TV+. A few employees speculated that she will also bring back the original Genius Bar.
To help boost sales in the interim, Apple has begun offering discounts on iPhones, cheap financing, trade-in offers, and more. These offers were seen around the world, including specific promotions in Australia and China, with Apple typically e-mailing customers about the limited-time discounts. In the United States, Apple even updated its website to promote a monthly payment option for iPhone XR and XS trade-ups.
The first Apple retail store that will open under O'Brien will be the Carnegie Library location in Washington, D.C. on May 11. As of now, Apple still sees its stores as communal gathering places. According to CEO Tim Cook, "We should probably come up with a name other than 'store,' because it's more of a place for the community to use in a much broader way."
Visit Bloomberg to read the full article: "How the Apple Store Lost Its Luster".