Apple CEO Tim Cook Discusses Apple's Revamped Carnegie Library Store in Washington, D.C.
Apple is set to open a new retail store at the revamped Carnegie Library in Washington, D.C. on Saturday, May 11, and ahead of the grand opening, Apple CEO Tim Cook and Apple retail leader Deirdre O'Brien did an interview with The Washington Post to discuss the new flagship location.
Work on the Carnegie Library Apple Store kicked off two years ago, and Apple has spent an estimated $30 million on the project. $7 million of that went towards facade restoration, $300,000 went to restoring the stair wells, and $2 million was spent on landscaping and site work. Apple is also paying $700,000 per year for the next 10 years to lease the space.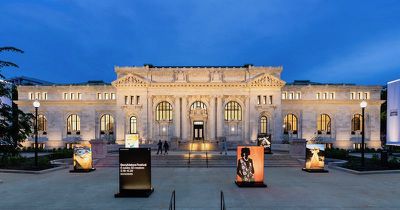 According to Cook, restoring Carnegie Library to its original design standards became the "most historic, ambitious restoration by far, in the world." Apple believes projects like this help showcase "Today at Apple" services and classes, though the company's aim is to get customers to further associate Apple with creativity.
"Our roots are in education and creativity," Cook said. "You think about where the company started from and Steve and the team at the time were very focused on providing people tools that allowed them to do incredible things."

"We've been serving the creative community as a company since the founding of the company, and the truth is everyone should be a part of the creative community," Cook added, "so this is our way to democratize it."
Like other remodeled Apple Stores, Carnegie Library will use the town square design with dedicated sections for the Genius Grove, Today at Apple sessions, and shopping for retail products. Buying something, says Cook is "probably one of the least done things" in an Apple retail location.
People come in to look at new products, and get help with the products that they already own. Apple sees its retail locations as communities rather than standard stores.
"We should probably come up with a name other than 'store,' " he said, "because it's more of a place for the community to use in a much broader way."
The Carnegie Library store will open at 10:00 a.m. local time on May 11, and Apple has six weeks of programs from local artists planned in celebration of the launch.


Apple will be sharing the space with the Historical Society of Washington D.C., which plans to open up a D.C. History Center.