Apple is teaming up with Chinese payments company Ant Financial Services Group, along with several local banks, to offer local customers interest-free financing on iPhones in China (via Reuters). Apple is continuously looking to boost smartphone sales in China, and this appears to be the latest move in the company's long-term plan to do so.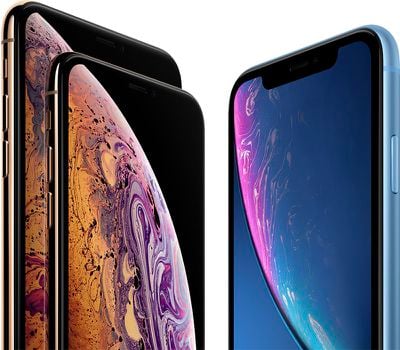 On its China website, Apple explains that customers can pay 271 yuan ($40.31) per month for the iPhone XR, and 362 yuan ($53.87) per month for the ‌iPhone‌ XS. If customers trade in older models of ‌iPhone‌, they'll get cheaper installment plans.
In total, customers buying an ‌iPhone‌ worth a minimum of 4,000 yuan (around $595) will qualify for interest-free financing that can be paid over three, six, nine, 12, or 24 months.
Apple has always struggled with ‌iPhone‌ sales in China, and according to Strategy Analytics, the company shipped an estimated 2.5 million fewer iPhones in China in 2018 than in 2017. The company's products have historically been categorized as too expensive for the China market, losing out to low-cost alternatives from popular local rivals like OPPO, Vivo, and Xiaomi.
In recent weeks, reports have suggested that Apple is seeing improved iPhone sales in China thanks to recent price cuts to the ‌iPhone‌ XR, XS, XS Max, and older models. According to Feng, data sourced from Alibaba suggests that ‌iPhone‌ sales on the site have increased by 76 percent in China since January 13, 2019.
The launch of China's limited-time promotion follows similar offers that have rolled out to a few regions around the world, including a trade-up promo in the United States. In emails sent to customers and on its website, Apple encourages shoppers to upgrade to an ‌iPhone‌ XR from $449 or ‌iPhone‌ XS from $699, with the trade in of an ‌iPhone‌ 7 Plus or ‌iPhone‌ 8.