WSJ on Apple's Video Service: Starz, Showtime, and HBO to Cost $9.99 Per Month, Roku May Gain Apple TV App
The Wall Street Journal has outlined its expectations for Apple's media event tomorrow at Steve Jobs Theater, where the company is expected to introduce subscription-based services for movies and TV shows, magazines and newspapers, and possibly games. The keynote begins Monday at 10 a.m. Pacific Time.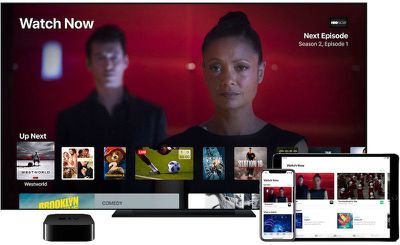 As we've heard previously, the report claims Apple plans to unveil the first footage from some of its new original TV shows at the event. Hollywood stars such as actress Reese Witherspoon and director J.J. Abrams have been invited to attend.
The report claims Apple plans to charge a fee for its original content, despite some sources previously saying it would be free to Apple device owners.
Apple's revamped TV app will make it easier to subscribe to networks such as Starz, Showtime and HBO, with which Apple has been "negotiating to offer their shows to users for $9.99 a month each." It's unclear if that means each network will cost $9.99 per month or if each user will pay $9.99 per month total.
Apple is said to be negotiating to bring its new TV app to multiple platforms, including Roku and smart TVs. This could refer to an expansion of the new iTunes movies and TV shows app coming to Samsung's latest smart TVs to other leading TV brands such as Sony and LG and to cheaper brands such as TCL and Sharp via Roku.
Samsung, LG, Sony, and Vizio already announced that their latest smart TVs are gaining AirPlay 2 support, enabling users to stream video, audio, photos, and other content directly from an iPhone, iPad, or Mac to the big screen. Apple and Roku are also in advanced discussions about AirPlay 2 support.
Apple is also expected to unveil a revamped News app with an optional premium tier that provides access to more than 200 magazines, including Bon Appétit, People, and Glamour, as well as newspapers such as The Wall Street Journal. The report claims Apple plans to charge $9.99 per month for the service.


The revamped Apple News app is expected to be based on Texture, the magazine subscription service that Apple acquired last year. The report claims The Washington Post and The New York Times are not participating in the service at launch due to disagreements over Apple's alleged 50-50 revenue split.
The report goes on to mention how Apple CEO Tim Cook began holding monthly meetings with Apple's services division around late 2017 as the company aims to grow its revenue from existing subscription offerings such as Apple Music and iCloud storage.
These meetings are said to include "monitoring of apps that benefit and threaten Apple":
For Mr. Cook's monthly services meetings, the company has intensified monitoring of apps that benefit and threaten Apple. The team has created a release radar for the CEO to track apps that are expected to sell well and other metrics for the apps that have challenged Apple's business, including iTunes sales decreases compared with Apple Music subscription growth…
Apple's video and news subscription offerings will certainly help the company expand its service portfolio further, but its exact plans are still clouded in secrecy. In less than 24 hours, we'll have a better understanding.
Apple will provide a livestream of the event.