Apple Has Wrapped Filming on Five Original TV Shows Ahead of Streaming Service Launch
In one week, Apple will host a media event in California focused mainly on details about its upcoming TV streaming service. This week, The New York Times published a report about the state of a few shows on the service, hinting at which ones might be available at launch, the issues some partners have with Apple's plans, and more.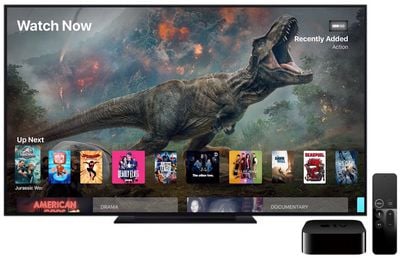 According to the story, around 11 projects have either completed filming or are nearing the end of filming, meaning they are the likeliest to appear in the "first wave" of shows on Apple's service. While we'll get the first glimpse at Apple's streaming service next week, the full service isn't expected to launch until later in the year.
Shows that have finished shooting include "Are You Sleeping?" starring Octavia Spencer; Ronald D. Moore's "For All Mankind"; M. Night Shyamalan's thriller series; Charlie Day and Rob McElhenney's unnamed comedy; and "Dickinson" starring Hailee Steinfeld. Looking forward, the number of original Apple productions is expected to increase in 2020.
Apple is said to be using this event to show customers "just how many shows [it] has pulled together," and that its streaming service will be worth checking out at launch. Combined with content purchased from third parties, Apple's offering could put it on par with the size of Hulu, Showtime, or FX, according to The New York Times. Previous rumors have suggested the launch lineup would be predominantly third party content.
More than a dozen people who have had dealings with Apple's TV service did reference concerns about the project in this week's report. Many working with Apple have received "little or no information" regarding the time frame of their shows' release dates, other than vague statements like "later this year, probably fall." Apple has also not divulged marketing plans to its partners.

Apple's entertainment team has not been totally opaque. It has provided feedback to individuals involved in the shows, but it has been tight-lipped about the marketing and rollout plans. The March 25 event may allay Hollywood's concerns, but several people involved in the new programs have interpreted the lack of communication as a sign that there may not be a clear game plan.
Apple has also reportedly been "squeamish" when it comes to the portrayal of its own technology in the shows. The company is said to ask specific questions about how iPhones or MacBooks will be used, suggesting that they prefer them to be seen in positive situations.
Apple's "It's Show Time" event will kick off on Monday, March 25 at the Steve Jobs Theater on the Apple Park Campus in California. As with most Apple events, it will start at 10:00 a.m. Pacific Time or 1:00 p.m. Eastern Time. The event is also expected to include the unveiling of its expanded Apple News service.