Wall Street Journal to Join Apple's News Subscription Service, but NYT and Washington Post Not Participating
The Wall Street Journal plans to join Apple's subscription news service that's set to be announced Monday, reports The New York Times. Other publications like the Washington Post and The New York Times itself are not on board, however, due to the revenue split Apple has requested.
Apple and The ‌Wall Street Journal‌ plan to announce the partnership at Apple's planned media event on March 25. Apple's subscription service for Apple News will provide readers with access to news articles and magazines from "hundreds" of participating publishers for one monthly fee, thought to be $9.99 per month.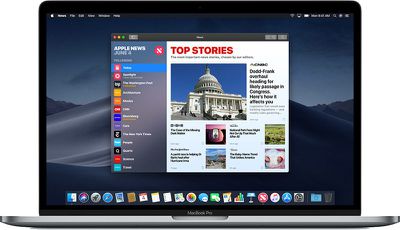 Rumors have suggested that Apple has been having trouble securing deals with news sites like The New York Times and the Washington Post because Apple wants to keep 50 percent of all subscription revenue, splitting the other 50 percent of the revenue between publishers according to the amount of time users spend engaged with their articles.
Major paywalled news sites offer their own subscription access to articles, with revenue that does not need to be shared with Apple. Participating in Apple's service could cause current subscribers to swap over, leading to overall lower revenue.
Apple is also declining to provide credit card information or email addresses to publishers, details that news sites use to create customer databases and market their products, and they're asking partners to provide unlimited access to content.
To lure publishers to join its ‌Apple News‌ service, Apple executives are citing the scale of ‌Apple News‌, which is installed on all iOS devices out of the box. Apple is telling publishers that millions of new customers could be introduced to their content, but some are not convinced.
Many magazine publishers are on board with Apple's proposed revenue terms, but most magazines have no existing online revenue streams. Magazine publishers have also already been working with the 50/50 revenue split following Apple's acquisition of Texture, the magazine subscription service Apple is basing its new offering on.
Apple will debut its new subscription service for ‌Apple News‌ at 10:00 a.m. Pacific Time on Monday, March 25. Apple will also use the same event to unveil its rumored streaming video service.