Magazine Publishers Support Apple's 50% Split for Paid Apple News Service
Apple is set to launch an Apple News service that will provide access to paywalled news content and magazines for one $9.99 monthly fee in March, but the company is still working to establish deals with newspapers.
Earlier this week, The Wall Street Journal said that Apple was having trouble convincing some major news publications like the Washington Post and The New York Times to sign up for the service, due to Apple wanting a 50 percent revenue split.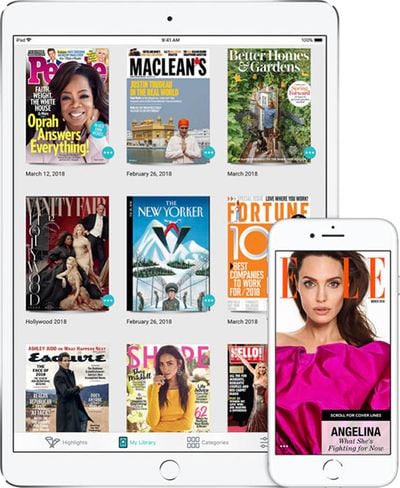 Apple would keep 50 percent of all subscription revenue and the other half of the revenue would be split among publishers "according to the amount of time users spend engaged with their articles."
Compared to Apple's 70/30 App Store split and the more than 70 percent of revenue that goes to Apple Music artists, the 50/50 split sounds stingy, but Recode today spoke with industry insiders and provided some insight into why Apple settled on that number.
As it turns out, there are many magazine publishers already on board with the 50/50 revenue agreement, with most convinced that Apple will get millions of people to subscribe to the new service, providing a lot of revenue to publishers despite the dramatic split. From Re/code:
And some publishers are happy to do it, because they think Apple will sign up many millions of people to the new service. And they'd rather have a smaller percentage of a bigger number than a bigger chunk of a smaller number.

In the words of a publishing executive who is optimistic about Apple's plans: "It's the absolute dollars paid out that matters, not the percentage."
Magazine publishers, though, have little to no online monetization of their content, which is not true of major newspapers. The New York Times and the Washington Post, for example, have existing digital subscription businesses that allow them to collect 100 percent of the revenue brought in by subscribers.
According to Recode, magazine publishers that have been participating in Texture, the magazine service Apple purchased, are already familiar with that kind of revenue split. Texture will form the base for the ‌Apple News‌ subscription service Apple is creating, with Apple planning to charge one fee for access to news and magazines.
Since Apple's Texture purchase, magazines have been receiving approximately half of the revenue the service generates, along with 100 percent of ad revenue. It's not clear if major newspapers will ultimately agree to a similar terms given that doing so could cannibalize more profitable subscription options available outside of ‌Apple News‌.
Apple is telling publishers that the new ‌Apple News‌ service will be heavily promoted and that it has the potential to generate millions of subscribers, which, as Recode points out, is not impossible given the success of the ‌Apple Music‌ service. ‌Apple Music‌, which launched in 2015, now has more than 50 million paid subscribers.