Apple Clashing With Publishers Over Subscription News Service
Apple is having trouble negotiating financial terms with publishers for its planned subscription news service, reports The Wall Street Journal.
Said to be like "Netflix for news," the planned subscription news service is designed to let users read unlimited content from participating publishers for one monthly fee, set at about $10 per month.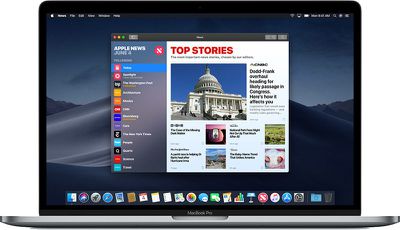 Major publishers are said to be resisting Apple's proposed revenue split, which would provide Apple with half of the revenue from the service. The other half of the revenue would be split among publishers "according to the amount of time users spend engaged with their articles."
Apple does not want to provide credit card information or email addresses to publishers, details that news sites use to create customer databases and market their products.
The New York Times and the Washington Post, two major publications with paywalls and subscription offerings, have not inked deals with Apple because of concerns over the terms at the current time. The Wall Street Journal reportedly also has concerns, but its conversations with Apple have been described as "productive."
Most sites charge $9.99 or more per month for access to their articles. The New York Times prices its basic subscriptions at $15 per month, while The Washington Post charges $10 per month and The ‌Wall Street Journal‌ charges $39 per month. Providing subscriptions through Apple could cause current subscribers to swap over, leading to lower revenue.
All three sites already offer some content on Apple News and are allowed to offer up subscriptions. News organizations are able to keep 70 percent of subscription fees for the first year for customers who sign up for ‌Apple News‌, while Apple keeps 30 percent. After a year, Apple's cut drops to 15 percent.
Apple is planning to launch the subscription news service later this year as a paid option in the ‌Apple News‌ app. Other rumors have suggested that Apple is also planning to provide access to a number of popular magazines for $9.99 per month as it incorporates its Texture acquisition into ‌Apple News‌.
It's possible that the one $9.99 per month fee would include access to both news content and magazines, though these could also be separate payments.
With the news service, and a planned television service that's also coming in 2019, Apple is aiming to boost its overall services revenue. With flagging iPhone sales, services has become an increasingly important category for Apple, allowing the company to generate revenue from its huge active install base.
Apple has discussed bundling its news service with iCloud storage tiers and its television service, so an all-in-one package from Apple could be on the horizon.