Apple to Hold Subscription-Focused Media Event March 25, No AirPods or iPad Mini Announcement Expected
Apple is planning to hold an event on March 25, its first of 2019, according to a new report from BuzzFeed. The event will reportedly take place at the Steve Jobs Theater on the Apple Park campus.
Apple will use the event to unveil its rumored news service, which will add paid subscription options to Apple News.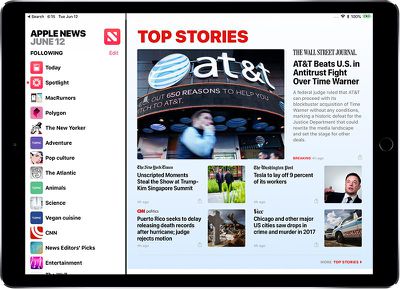 While Apple has many products in the works that are rumored to be debuting in the spring, BuzzFeed says not to expect the company to unveil a new iPad mini or second-generation AirPods, as their appearance at the event is "unlikely."
Instead, the event will be "subscription services focused," though it is unclear if it will also include details on the upcoming TV news service that Apple has in the works. That service is expected to launch as early as April, so it's certainly possible.
Recent rumors suggest Apple is planning to offer a $9.99 per month subscription for ‌Apple News‌ that would allow users unlimited access to paywalled content on sites like The New York Times, the Washington Post, and The Wall Street Journal.
Apple is, however, said to be still negotiating financial terms, as it is requesting 50 percent of revenue from the service, with the rest to be split among publications. News sites are said to be wary to enter into this deal with Apple due both to pricing issues and Apple's desire to control email addresses and credit card information.
There have been rumors suggesting that Apple will bundle the news service with iCloud storage tiers and its television service, providing all-in-one Apple services package, which could mean both the news and TV services will be introduced all at once. The news subscription service could also include magazines, as Apple is said to be working on a $9.99 per month service that would offer magazine access much like the Texture app that it acquired last year.
With the event reportedly focused on services, it sounds like we also won't be seeing an upgraded iPad, a new 7th-generation iPod touch, or the AirPower at the event, along with the lack of a new ‌iPad mini‌ and new AirPods.
If March isn't the planned launch target for these items, it's not known when we might see them. Apple could plan a second spring event, though it has never done so, or opt to introduce them later in the year at WWDC. Eventless launches are also a possibility, so Apple could release these products via press release without highlighting them at an event.
Apple has held events in March in 2015, 2016, and 2018, so it makes since that the company is planning a 2019 March event as well. There is always a chance that BuzzFeed is wrong and Apple will debut these new devices at the event, but the site often provides accurate information on Apple's plans.