Possibilities of a Triple-Lens iPhone Camera: Improved 3D Sensing, Zoom, and Low-Light Photos
Following in the footsteps of Huawei and likely Samsung, Apple is widely rumored to release at least one new iPhone model with a triple-lens rear camera in 2019. That model is now believed to be the next generation of the iPhone XS Max.
A render of the alleged triple-lens design has even surfaced this week, complete with what would surely be a polarizing design: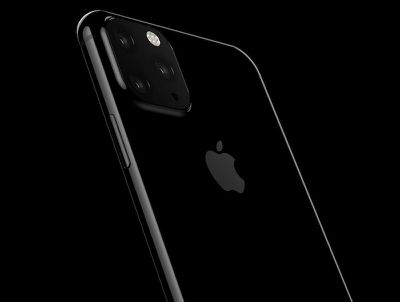 If the rumor proves to be accurate and depending on the implementation, there are several potential advantages of the third lens, including
advanced 3D sensing
,
increased optical zoom
, improved low-light performance, and improved photo quality in general thanks to the collection of more light and color data.
Advanced 3D Sensing
Apple has repeatedly expressed a profound interest in augmented reality. The release of ARKit instantly made augmented reality accessible to hundreds of millions of iPhones and iPads, but Apple is just getting started in this area.
A third lens would likely result in significantly improved 3D spatial recognition on the iPhone, with a report last year suggesting that the rear-facing sensing capabilities will be even more advanced than the front-facing TrueDepth system on the iPhone X. This would open the door to several augmented reality use cases.


The same report claimed the triple-lens camera array will be capable of stereoscopic imaging, in which two of the sensors would be able to capture images of a single object from different angles. A triangulation method would then be used to obtain the distance between the iPhone and the object.
Back in 2017, Bloomberg News reported that Apple aimed to include rear-facing 3D sensing capabilities in its 2019 iPhones. But, at the time, the report said Apple was evaluating a time-of-flight approach that calculates the time it takes for a laser to bounce off surrounding objects to create a 3D image of the environment.
Whichever implementation Apple uses, the third lens would no doubt improve the iPhone's augmented reality capabilities. And that, in turn, could lay the foundation for the rumored launch of augmented reality Apple Glasses in 2020.

Increased Optical Zoom
A third lens would likely enable 3x optical zoom on an iPhone for the first time, enabling users to magnify the image in the viewfinder by up to 3x without a blurry reduction in quality like digital zoom.
By comparison, the iPhone 7 Plus, iPhone 8 Plus, iPhone X, iPhone XS, and iPhone XS Max feature 2x optical zoom.

Huawei P20 Pro
Huawei's P20 Pro smartphone was the first with a triple-lens rear camera system, including a 40-megapixel lens, a 20-megapixel monochrome lens, and an 8-megapixel telephoto lens with 3x optical zoom.
Improved Low-Light Performance
A third lens on the iPhone, if a traditional sensor, would draw in additional light for improved low-light performance.
Apple is certainly heavily invested in computational photography. On the latest iPhones, for example, Smart HDR results in photos with more highlight and shadow detail, while Depth Control significantly improves Portrait Mode.



Google's new "Night Sight" mode on the Pixel 3 and Pixel 3 XL sets the bar for low-light photos, however, by using machine learning to choose the right colors based on the content of the image. The result is much brighter photos in low-light conditions, without having to use the camera flash.
With a third lens, and improved machine learning, perhaps Apple can come out with a feature to rival Night Sight in 2019.