2019 iPhone's Triple-Lens Rear Camera Design Allegedly Showing in New Renderings
Serial phone leaker Steve Hemmerstoffer has partnered with Indian tech site Digit to release some new renderings claimed to be of the next-generation iPhone, presumably scheduled to launch around September of this year.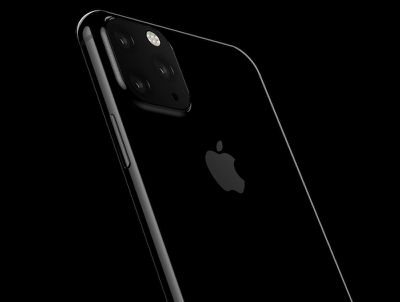 The distinguishing feature of the renderings is the rear camera, which is a large, unusual-looking patch housing three lenses in a triangular configuration, a flash, and a microphone.
Given the extremely odd appearance, we'd ordinarily dismiss such renderings out of hand unless additional evidence surfaced, but Hemmerstoffer has a long track record of sourcing information from the supply chains of Apple and other phone manufacturers. He does, however, acknowledge that this is a "freakingly early leak" and plans may change before the phone design is finalized.
At least one of this year's iPhone models is
rumored to include a triple-lens rear camera
, although early rumors are split on just what the third lens would be used for.
Some sources have indicated Apple is working on "time-of-flight" depth sensing for higher-quality augmented reality experiences, but reliable analyst Ming-Chi Kuo is skeptical that the technology will make it into Apple's 2019 iPhones. A more traditional third camera lens could still be used for other purposes, however, such as for improving low-light performance or offering improved optical zoom capabilities.
Phone manufacturers have recently been racing to boost their camera lens counts to three, four, or even five in an arms race to make their devices stand out with unique features. Apple, however, has chosen to be selective in how it competes on rear camera specs, largely focusing on software and chip enhancements to improve photo quality while gradually moving to dual-lens rear cameras in its highest-end models.