Apple Cuts iPhone XR Prices for Third-Party Distributors in China
Apple has dropped the price of the iPhone XR by about $100 for its channel partners in China, reports Yahoo Finance. The price cut allows third-party vendors to purchase the iPhone XR more cheaply, which allows the device to be sold to customers at a lower price.
Apple is not offering direct discounts on the device in China, but third-party retailers implemented price cuts on Tuesday after Apple dropped purchasing prices.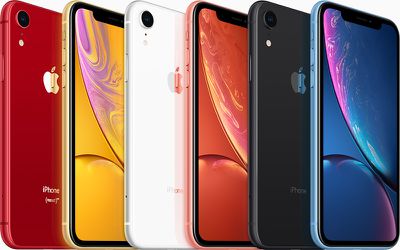 An Apple partner that buys from Apple and sells to distributors and retailers dropped the iPhone XR's price from 5980 yuan ($881) to 5380 yuan ($793) with an additional 150 yuan ($22) coupon available.
According to Yahoo Finance, the partner in question was told by Apple to drop prices to boost iPhone XR sales.
Many vendors in China are now offering the iPhone XR at a discount. JD.com is offering customers a 400 yuan coupon that drops the price of the iPhone XR to 6099 yuan ($899), while Suning, an electronics store similar to Best Buy, now sells the iPhone XR for 6199 yuan ($914).


Both of those prices are cheaper than the 6499 yuan ($958) that Apple asks for the iPhone XR from its website and retail stores.
The discount comes just ahead of the Chinese New Year in February, and could spur additional iPhone XR sales. A report from China's National Business Daily this week suggested Apple has also implemented distributor price drops on other iPhones including the iPhone 8, 8 Plus, X, XS, and XS Max. The biggest price cuts are on the iPhone XR, however.
Another recent report suggests that Apple has cut production on the iPhone XR, XS, and XS Max by about 10 percent for the next three months.
The price drops and the production cut follow a recent Q1 2019 guidance downgrade, with Apple expecting revenue of $84 billion during the quarter. That's a year-over-year decline and a drop from the $89 to $93 million revenue guidance Apple provided in November.
Apple CEO Tim Cook said that a major reason for the earnings downgrade was a weakening Chinese economy, where Apple saw softer iPhone sales than expected.