Samsung Kills Headphone Jack in Latest Smartphone After Years of Mocking Apple
Samsung today introduced its latest smartphone, the Galaxy A8s. It is Samsung's first smartphone with an Infinity-O display, which has a nearly edge-to-edge, uninterrupted design beyond a small hole for the front-facing camera.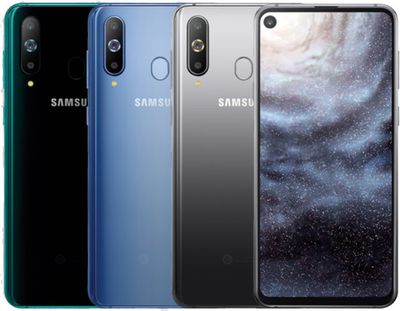 It is also Samsung's first smartphone without a headphone jack, much to the amusement of iPhone users, as Samsung has mocked Apple for over two years over its decision to remove the headphone jack from the iPhone 7 in 2016, a trend that has continued through to the iPhone XS, iPhone XS Max, and iPhone XR.


While on stage unveiling the new Galaxy Note7 in 2016, for example, Samsung executive Justin Denison made sure to point out that the device came with a headphone jack. "Want to know what else it comes with?" he asked. "An audio jack. I'm just saying," he answered, smirking as the audience laughed.
And earlier this year, Samsung mocked the iPhone X's lack of a headphone jack in one of its "Ingenius" ads promoting the Galaxy S9.
In the ad, a customer at an Apple Store asks if he can use his wired headphones with the iPhone X, and the employee informs him that he will need a dongle. The customer then inquires about charging at the same time, and the employee says he'll need another dongle. "So, a double dongle," the customer says.
To use wired headphones with the Galaxy A8s, a mid-range device for the Chinese market, users must use a USB-C to 3.5mm jack adapter.
While rumors suggest Samsung's upcoming Galaxy S10 will continue to feature a headphone jack, it could be the company's last flagship handset to have one. In October, Korean website ETNews said Samsung is considering removing the headphone jack from the Galaxy Note10 in 2019 and Galaxy S11 in 2020.
Samsung isn't the first tech giant to mock Apple's decision to remove the headphone jack, only to follow suit. Google poked fun at the iPhone 7's lack of headphone jack while unveiling its original Pixel smartphone in 2016, and then the Pixel 2 launched without one just a year later. Well, well, well. How the turntables…