Google Unveils Pixel 2 Smartphone, Pixelbook, and Two New Google Home Speakers
Google this morning held an event in San Francisco, California, where the company unveiled several new hardware products, including the Pixel 2, the Google Pixelbook, and two new versions of the Google Home smart speaker.
The Pixel 2 comes in 5 and 6-inch screen sizes, with the XL model featuring slimmer bezels. It features what Google says is a bolder look with an aluminum body with a soft sculpted back and premium coating, a glass top, and buttons with a pop of color. There's a fingerprint sensor on the back of the device, no headphone jack, and IP67 water resistance.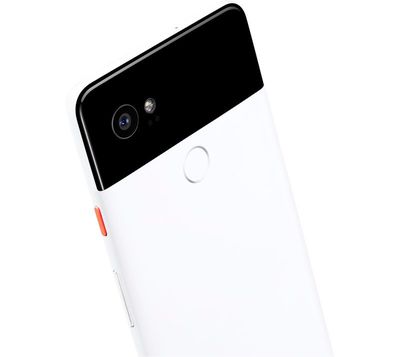 Active Edge lets users squeeze the side of the Pixel 2 to activate Google Assistant and do things like silence phone calls, and the OLED display is always-on to display notifications and the time (the 6-inch version uses a P-OLED display). A fast charging feature allows for 7 hours of charge in 15 minutes. The Pixel 2 supports the Google Lens feature, which lets the Pixel camera identify objects in the world, and it includes AR stickers.


There are camera improvements, including support for Portrait Mode, a feature similar to the Portrait Mode in the latest iPhones. Portrait Mode on Pixel 2 requires just one camera and is available for both the front and rear cameras. Google says DxO has given the camera a score of 98. For comparison, the iPhone 8 Plus received a 94.
Pricing on the Pixel 2 starts at $649 for 64GB storage. The Pixel 2 XL starts at $849 for 64GB of storage. Pre-orders are available starting today. Google is releasing new wireless Google Pixel Buds alongside the Pixel 2. While these connect to Pixel 2 over Bluetooth, they have a wire between the left and right earbuds, unlike the AirPods. Pixel Buds feature real time language translation and are priced at $159.


Google Home Mini features a sleek, smooth design. It's small enough that it fits anywhere in the home. The enclosure is made of a special fabric created by Google to let through light and sound. It comes in three colors: coral, chalk, and charcoal, aka a red, a gray, and a black color.


Four LED lights under the fabric let users know that the Google Home Mini is listening, and it responds to touch. The circular shape of the device projects 360 degree sound, for sound that Google says is "amazing." The speaker costs $49 and can be pre-ordered starting today ahead of an October 19 launch date.
Google Home Max is the "biggest and best sounding" Google Home ever, and Google says it's 20 times more powerful than the existing Google Home. The speaker features dual 4.5-inch high-excursion woofers, 0.7-inch tweeters, and an "acoustically transparent fabric" that comes in chalk and charcoal.


Like Apple's upcoming HomePod, Max features Smart Sound that's able to adapt to the ambient environment in the home, adjusting the sound to its location. It costs $399 and will be available in December. The price point includes 12 months of free YouTube Red service.
Google also announced Broadcast, a feature that lets a message from one Google Home be sent to other Google Home speakers, and new learning experiences for children.
As for laptops, Google introduced the high-end Google Pixelbook, its thinnest and lightest laptop yet. Pixelbook is 10mm thick and weighs a kilogram, and it can convert from a laptop to a tablet. It has a 12.3-inch touchscreen, Core i5/Corei7 chips, 16GB RAM, up to 512GB storage, built-in Google Assistant, and 10 hours of battery life.


It supports a new Pixelbook Pen for writing on the touchscreen and interacting with Google Assistant. Pixelbook is priced starting at $999, while the pen is priced at $99. Both are available for pre-order starting today ahead of an October 31 launch.