Apple's plans for its first flagship store in Australia have been dealt another blow, with The Age reporting that the proposed location in Melbourne has won Heritage Protection status until late 2018.
The Victorian branch of Australia's National Trust is said to have nominated Federation Square for protection earlier this month, shortly after Apple submitted revised blueprints for the planned store on July 19.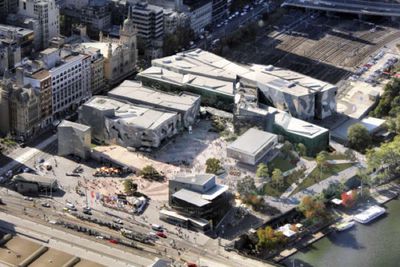 Apple's revised Federation Square design
The Heritage Protection status means no work on the square can take place until December 21, 2018 without explicit permission from the National Trust. With Apple not hoping to start construction until next year, the date on its own isn't a problem, but the move by Heritage Victoria suggests that permanent protection is the final goal.
The construction of the new store would require the demolition of the well-known Yarra building, which has infuriated Melbourne residents and led to major protests suggesting the public space should not be given over to a corporation.
In February, Melbourne's City Council backed a motion to lobby for a new store design, and Apple's revised plan was positively received by the Federation Square leadership, but it looks as if public community groups have yet to be convinced.

"The interim protection order allows us to take stock and think about what makes Fed Square truly special," said Citizens for Melbourne president Tania Davidge, speaking to The Age. "Hopefully, after eight months of discussion behind closed doors, Victorians will now have the opportunity to have a say about the future of their public, cultural and civic square."

Another view of the new design
The city of Melbourne's Heritage portfolio chair Rohan Leppert said the public backlash to the proposed Apple store proved that Federation Square "is a site of state significance", and said he was glad that Heritage Victoria was taking the proposal to permanently protect Federation Square seriously.
"Heritage Victoria's decision to apply an IPO formalises these public heritage values and is very welcome, as is the exceptional leadership of the National Trust," he said.
Despite the square being granted temporary protection status, the state government is still siding with Apple on the issue. Responding to the news, tourism and major events minister John Eren said it would be "unprecedented" to heritage list a site that is only 16 years old.
"To do so could lead to significant implications for future projects," Eren told The Age. "This will not stop us delivering the Metro Tunnel and other vital projects that are good for Melbourne and good for jobs."