Unlike Costco, Walmart Has 'No Plans' to Accept Apple Pay
Costco, the world's second largest retailer behind Walmart, recently confirmed that it now accepts Apple Pay and other contactless payment methods at all of its 527 warehouse locations in the United States.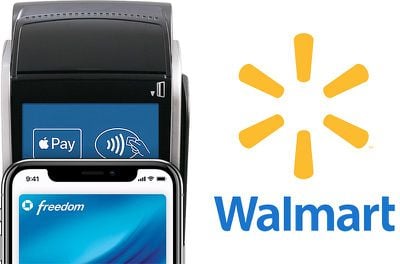 Walmart appears to be unfazed by the move, however, as it remains committed to its own Walmart Pay platform in the United States.
"Walmart Pay is the exclusive form of mobile payment accepted at Walmart and we have no plans for that to change," said Walmart spokesperson Erin Hulliberger, in a statement provided to MacRumors today.
Walmart Pay, built into the Walmart app for iOS and Android, works at any checkout lane with any major credit, debit, pre-paid, or Walmart gift card. To use it, a customer must tap on Walmart Pay and scan the QR code displayed at the checkout. An electronic receipt is automatically sent to the app.
Walmart was originally committed to the Merchant Customer Exchange consortium and its payments solution
CurrentC
, which was later
postponed indefinitely
, before launching Walmart Pay in 2015. As of July 2016, Walmart has rolled out Walmart Pay to some
4,600 of its locations in all 50 states
.
In late 2015, Walmart's senior vice president of services Daniel Eckert said Walmart Pay allows "for integration of other mobile wallets in the future," which provided hope that the big-box chain may eventually accept Apple Pay and other contactless payments, but nearly three years later, that has yet to happen.
Walmart's resistance to Apple Pay continues despite many other large retailers, including Best Buy, Rite Aid, and now Costco, reversing course and accepting the payments solution in stores. Apple recently confirmed that pharmacy chain CVS and 7-Eleven convenience stores will also accept Apple Pay starting later this year.
Last year, rival big-box chain Target likewise said it had "no plans" to make Apple Pay available in its stores, despite accepting it as a payment method in its app. Instead, Target launched a barcode-based solution.
Apple Pay launched in the United States in October 2014, providing tap-to-pay functionality with a compatible iPhone or Apple Watch after setting up a supported credit or debit card in the Wallet app. Apple Pay is now available in more than 20 countries, and is set to launch in Germany later this year.
Correction: Costco has 527 warehouses in the United States, and 758 worldwide, as of August 2018.