Apple Pay Now Accepted at All Costco Warehouses in United States
Apple Pay is now accepted at all Costco warehouses in the United States, at in-store checkouts, according to the wholesale retailer.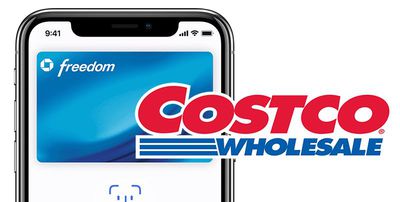 Costco has been equipping its warehouses with contactless payment terminals over the past several months, and as of this week, it has activated contactless payments at all of its 750 locations across the country. Costco is also outfitting its gas stations with contactless readers, but only a few have gone live.
Costco had previously been trialing Apple Pay at a warehouse in Issaquah, Washington, near its corporate headquarters, and a handful of other locations, but only now has acceptance rolled out to all of its stores.
The tap-to-pay functionality of Costco Anywhere credit cards is also working now. Costco launched this Visa-branded card a few years ago, in partnership with Citi, enabling Costco members to earn 2% cash back on purchases from Costco and Costco.com. It also doubles as a Costco membership card for entry.
As one of the biggest retailers in the United States, Apple Pay acceptance at Costco was long awaited. Apple Pay will also be launching at pharmacy chain CVS and convenience store chain 7-Eleven in the U.S. later this year.
Update: Costco says it completed its contactless payments rollout in the United States on August 10, excluding its gas stations.
"We've added additional mobile payment options to make your next visit more convenient," said Costco, in a statement issued to MacRumors. "Costco members can now use Apple Pay, Google Wallet and Samsung Pay at U.S. Costco locations."