Rite Aid Reverses Course, Will Accept Apple Pay Starting August 15
Rite Aid today announced that its 4,600 stores across the United States will begin accepting Apple Pay and Google Wallet starting August 15, nearly one year after the drugstore chain and CVS infamously disabled support for the iPhone-based mobile payments service nationwide. Rite Aid will also support Google's forthcoming Android Pay service when available.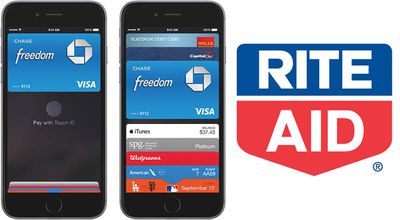 Rite Aid and CVS spurred a controversy last year after disabling Apple Pay and Google Wallet as payment methods last year, likely because both are members of the Merchant Customer Exchange (MCX) consortium, which has its own mobile payments service called CurrentC. MCX launched in August 2012 with a three-year exclusivity period for all members, which ends this month.
"Increasingly, consumers are actively seeking out and incorporating mobile technology into many facets of their life, including their shopping and purchasing decisions," said Ken Martindale, CEO of Rite Aid stores and president of Rite Aid Corporation. "By accepting mobile payments, we're able to offer Rite Aid customers an easy and convenient checkout process, which we know is important to them. Investing in mobile technologies is just one piece of Rite Aid's evolving digital strategy and we will continue to explore, test and implement innovative technologies that will help us to better serve our valued customers."
Apple responded to the Rite Aid-CVS situation last year by stating that Apple Pay feedback from customers and retailers was "overwhelmingly positive and enthusiastic" at the time, and the mobile payments service is now available at over 750,000 locations in the United States and United Kingdom. Other MCX members that remain without Apple Pay support include Walmart, Target and Lowe's.