Apple Pay Holdout Target Launches New In-App Mobile Payments System
Target today launched its own payments platform, allowing customers to pay for purchases in Target stores using a new Wallet feature in the dedicated Target app available on iOS and Android devices.
Target's Wallet feature lets customers pay with their Target REDCard and get Cartwheel discounts and benefits all in one phone scan during checkout.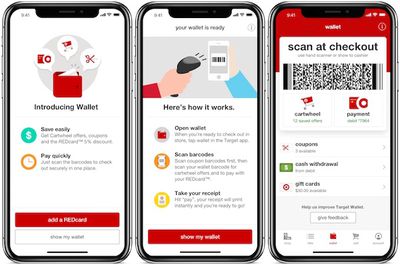 To use the feature, Target customers need to add a Target REDCard to the Wallet in the Target app. REDCard is Target's store-branded credit card, which offers customers discounts on purchases.
When checking out in a retail store, Target customers will need to open up the Target app, tap on Wallet, scan coupon barcodes and then scan the wallet barcode to make a purchase.
Target's payments service is a barcode-based system, similar to Walmart's dedicated Walmart Pay option, which uses QR codes. While Walmart Pay supports any major credit, debit, pre-paid or Walmart gift card, Target's Wallet appears to be limited to its own REDCards. Target claims that its new Wallet feature is up to four times faster than other payment types when checking out.
"Wallet in the Target app makes checkout easier and faster than ever," said Mike McNamara, Target's chief information and digital officer. "Guests are going to love the convenience of having payment, Cartwheel offers, Weekly Ad coupons and GiftCards all in one place with Wallet."
Target, like Walmart, is one of the few remaining major companies that have opted not to adopt Apple Pay, Apple's mobile payments service.
As a result, Apple Pay is not available in Target's retail stores, but Target does offer Apple Pay as a payment option in the Target app when making online purchases.
Target is a founding member of the Merchant Customer Exchange (MCX), a now defunct consortium of retailers that planned to launch a payment platform called CurrentC to compete with Apple Pay. CurrentC has been delayed indefinitely, and many MCX members like Best Buy and Rite-Aid have begun accepting Apple Pay.
Earlier this year, Target said it had "no plans" to add in-store support for Apple Pay.