Apple Continues to Expand Self-Driving Car Fleet
Apple continues to expand the number of self-driving vehicles it is testing on the streets of Northern California, according to new numbers sourced from the California DMV (via macReports).
Apple has 55 vehicles out on the road driven by a total of 83 drivers, up from the 45 vehicle permits the company possessed in March. Since last April, Apple has been steadily adding new vehicles to its fleet, all of which are equipped with the autonomous driving software that Apple is developing.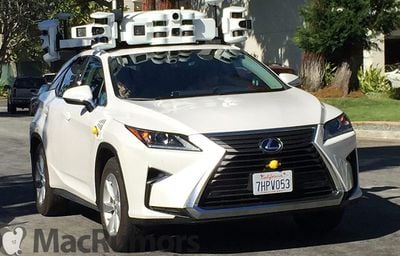 For its software testing, Apple uses Lexus RX450h sports utility vehicles outfitted with advanced LIDAR equipment and an array of cameras. While California now allows for fully autonomous driverless vehicles to be tested on public roads, Apple does not yet possess those permits and all of its vehicles have safety drivers inside.
Rumors of Apple's work in the vehicle space first surfaced in 2015 as the company hired thousands of automotive experts and explored the possibility of a full Apple-designed electric vehicle. Those plans did not pan out, and in 2016, longtime Apple executive Bob Mansfield took over the automotive team and Apple refocused its efforts not on a car, but on self-driving car software.
At the time of the pivot, Apple executives allegedly gave the automotive team until 2017 to "prove the feasibility" of a self-driving car system, and given the continued expansion of Apple's self-driving car fleet, it seems the company has decided to progress with development.
It is not yet clear what Apple plans to do with the self-driving car software when finished, but the company could partner with other car manufacturers or eventually return to development on its own vehicle. It's also possible that some of the features that are being worked on could be introduced in future more advanced versions of CarPlay.
Some rumors have suggested augmented reality aspects could be included in the software that Apple is developing, such as a heads-up display that would provide standard driving details along with data from apps like Maps.
Because of the need to submit public information to the DMV, Apple has not been able to keep its work on autonomous driving software under wraps as it does with most of its product development. Tim Cook in June of 2017 even confirmed Apple's work on autonomous software, a rare move for the normally tight-lipped CEO. "It's a core technology that we view as very important," he said. "We sort of see it as the mother of all AI projects. It's probably one of the most difficult AI projects to actually work on."