Apple's Fleet of Self-Driving Vehicles Has Almost Doubled Since January
Apple's fleet of self-driving vehicles has almost doubled over the past two months, according to the Financial Times, as the iPhone maker continues to accelerate its research and development of autonomous technologies.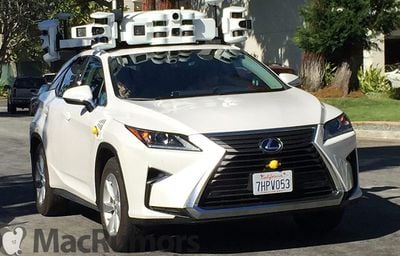 The report claims Apple now has permits for 45 autonomous vehicles, up from 27 in January, based on figures provided by the California Department of Motor Vehicles. Apple has been expanding its fleet rapidly since receiving permits to test just three autonomous vehicles in California last April.
Apple's testing fleet is now the second largest in California, behind only General Motors subsidiary Cruise Automation and its 110 cars, according to the report. Google-owned Waymo is testing 24 cars in the state, down from more than 100 last June, while Tesla has 39 permits, the report adds.
As noted by Financial Times reporter Tim Bradshaw, Waymo and other companies appear to be shifting their testing to Arizona and other states, so Apple's larger-sized fleet in California doesn't necessarily make it the de facto leader.
Uber has permits to test 29 driverless vehicles in California, but the company has suspended all of its self-driving tests after a pedestrian was struck and killed by one of its autonomous vehicles, with a human safety driver behind the wheel, on Sunday. It was the first pedestrian fatality caused by an autonomous vehicle.
While the incident could result in more regulations for all companies testing autonomous vehicles, including Apple, Tempe police chief Sylvia Moir told the San Francisco Chronicle that "it would have been difficult to avoid this collision in any kind of mode based on how she came from the shadows right into the roadway."
California has required companies testing autonomous vehicles to have a human in the driver's seat to take over in the event of an emergency, but the state will be lifting that rule starting April 2, 2018.
Apple is one of more than 50 companies testing self-driving vehicle technologies in the San Francisco Bay Area. For nearly a year now, the company has been deploying its autonomous software in a series of 2015 Lexus RX450h SUVs, which can often be seen on streets surrounding its Cupertino headquarters.
"We're focusing on autonomous systems," said Apple CEO Tim Cook, in a June 2017 interview with Bloomberg Television. "It's a core technology that we view as very important. We sort of see it as the mother of all AI projects. It's probably one of the most difficult AI projects actually to work on."