Apple Said to Be Considering Augmented Reality for Car Driving System
KGI Securities analyst Ming-Chi Kuo has released a new research report outlining why he believes Apple has shifted its focus from its original rumored car project in favor of augmented reality technology.
According to Kuo, reports that Apple has turned its attention to developing a software-based autonomous driving system "make sense", given that the system will support augmented reality and provide an "innovative user experience".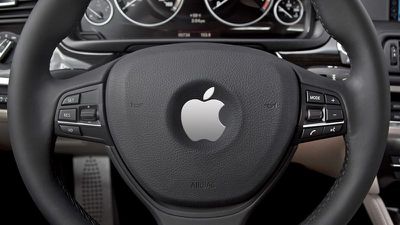 All of Apple's past successes were related to human-machine interfaces, such as mouse for Mac, click wheel for iPod, and multi-touch for iPhone and iPad.

Assuming Apple successfully develops AR, we predict the firm will enjoy the following competitive advantages: (1) redefining existing key products and leading competitors by three to five years. For instance, this could happen for iPhone, iPad and Mac; (2) eliminating obstacles of Apple Watch and Apple TV by offering an innovative user experience; and (3) entering new business fields, such as autonomous driving system.

We expect Apple to generate preliminary results for AR in the next 1-2 years at the earliest and working with iPhone may be the first step.
Kuo thinks the AR market will increase significantly in 2018 and will replace VR to become the mainstream market focus as Apple enters the field. Kuo predicts the AR and VR markets combined will grow from $40-50 billion in 2018 to $150 billion in 2020, with the majority increase coming from AR.
Apple's increased interest in augmented reality is no secret. CEO Tim Cook has spoken about AR on a number of occasions over recent months, hinting that the company's approach to AR should encourage, not replace, human contact.
In July, Cook said Apple was "high on AR in the long run" and that the company continues "to invest a lot in [AR]." He said he believes augmented reality "can be huge," and in August, he called it a "core technology", while in September Cook said he believes that between VR and AR, the latter "is the larger of the two," because it allows people to "be very present," engaging with one another while having other visual things to see.
According to rumors, Apple has a
research team
working on augmented and virtual reality, exploring the AR/VR field and investigating how the company could embrace augmented or virtual reality in the future. Apple has reportedly built prototype virtual reality headsets, but Cook's continued comments on augmented reality indicate Apple is more heavily invested in that technology.