Apple Music has seen a consistent rise in subscriber numbers over the past year, with the streaming music service's fastest growth yet -- hitting 40 million subscribers -- coming just this month. According to Macquarie Capital analyst Ben Schachter, Apple Music will keep up its progress and average 40 percent growth each year over the next three years (via The Wall Street Journal).
With this projection, Apple Music would see subscriber numbers reach about 56 million within the next year, 78 million in two years, and break the 100 million paid subscriber milestone in under three years. For comparison with previous growth, Apple Music sat at 10 million subscribers in January 2016, 20 million in December 2016, 30 million in September 2017, and 40 million in April 2018.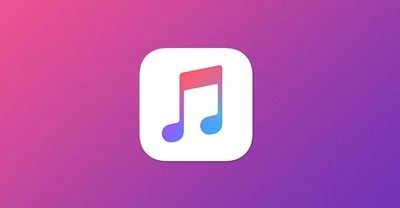 Schachter explains that while Apple Music will continue to be a solid performer for Apple, music streaming royalties will prevent it from becoming Apple's most profitable service.

The rub, of course, is that music streaming isn't a terribly profitable business, due mostly to the royalties streamers must pay to labels and artists. Mr. Schachter estimates that Apple Music commands a gross margin of around 15%. That is actually lower than the 24% that Spotify projects for this year. But even if Apple's margins in music equaled that of its rival, they remain well below what the company makes by selling apps made by other developers. Mr. Schachter estimates that the latter commands gross margins of about 90%.

In other words, while music may be a key component to Apple's growth, apps are far more vital to the company's healthy bottom line. When it comes to services, Apple needs to get its playlist mix just right.
Still, the analyst's projections mark Apple Music as the "fastest-growing" service in Apple's services segment, which includes platforms like iTunes, the App Store, iCloud, Apple Pay, and AppleCare. In the company's upcoming quarterly earnings report on May 1, total services revenue is predicted to hit $8.3 billion for the second fiscal quarter, up 18 percent year-on-year. In the first fiscal quarter of 2018 Apple's services saw revenue of $8.5 billion, up 18 percent from 2017 and setting an all-time quarterly revenue record.
Morgan Stanley analyst Katy Huberty said earlier this year that Apple's services category will be the company's main revenue driver over the next five years. While iPhones will make up 22 percent of revenue growth through 2023, Huberty predicted that services will contribute more than 50 percent of Apple's total revenue growth over the same time period.
For Apple Music, the service's growth is believed to soon eclipse Spotify within the United States in terms of paid subscribers. A report from February said Apple Music was growing at a pace of about 5 percent monthly (which would total a faster annual growth than Schachter's prediction), compared to Spotify's 2 percent clip. According to these growth rates, Apple Music is expected to surpass Spotify in paid U.S. subscribers as soon as this summer. Spotify last updated its paid subscriber count in December 2017, marking 71 million users.