Apple Targeting 100 Million Subscribers for Streaming Music Service
Apple has an ambitious goal to sign up 100 million subscribers for its upcoming streaming music service known as Apple Music, according to The Associated Press. A subscriber base that large would trump competing services such as Spotify, Pandora, Deezer and others, which had a collective 41 million paid U.S. subscribers in 2014 per the International Federation of the Phonographic Industry.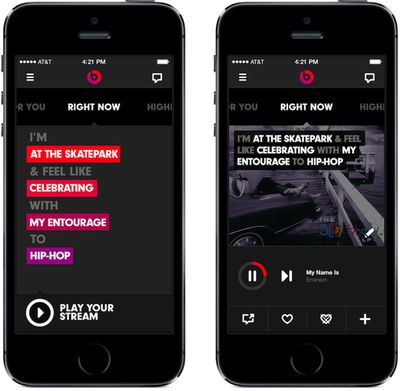 Apple Music is widely expected to be a rebranded and improved version of Beats Music, which the Cupertino-based company acquired for $3 billion last year alongside the Beats Electronics headphones and speakers division. The much-rumored streaming service will reportedly cost $10 per month, with a three-month free trial period, and focus on exclusive content and human curated playlists.
Beats Music had 303,000 U.S. subscribers as of December, trailing market leader Spotify's 4.7 million U.S. subscribers by a significant margin. Nevertheless, Apple previously said it has over 800 million users with iTunes accounts to its advantage and will reportedly present those users with the option to purchase an Apple Music subscription instead when downloading songs and albums through the iTunes Store.
Apple is expected to unveil its new streaming music service at its annual Worldwide Developers Conference today in San Francisco. During the opening keynote at 10 AM Pacific, CEO Tim Cook and other executives should reveal several details about the service alongside other announcements about iOS 9, OS X 10.11, Apple Pay and more. MacRumors will be providing live coverage of the event as it unfolds.