Apple Music Now Has Over 30M Paid Subscribers, Up from 27M in June
In an interview with Billboard posted today, Apple Music executive Jimmy Iovine has discussed a number of topics related to the streaming music service's "long game," including its growth over the past three months. At WWDC in June, Apple mentioned that Apple Music had 27 million paid subscribers, and today the company confirmed to Billboard that it has now reached "well over" 30 million.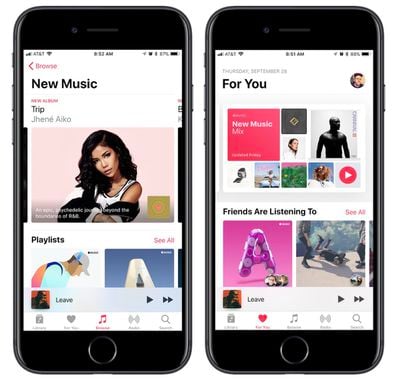 Iovine was enthusiastic about Apple Music's growth, but admitted that simply adding more subscribers, launching entire back catalogues through record label deals, and staying on the forefront of new hits isn't enough to maintain Apple's presence in the streaming music market. "I just don't think streaming is enough as it is," he said.

"I believe we're in the right place, we have the right people and the right attitude to not settle for what exists right now." But ultimately? "Just because we're adding millions of subscribers and the old catalog numbers are going up, that's not the trick. That's just not going to hold."

"I just don't think streaming is enough as it is. I don't agree that all things are going to be OK [just] because Apple came into streaming and the numbers went up. Look at the catalog: It's a matter of time before the '60s become the '50s and the '50s become the '40s. The people that are listening to the '60s will die -- I'm one of them. Life goes on. So you have to help the artists create new stuff that they would never be able to do on their own."
Apple Music's main rival remains Spotify, which counted 60 million paid subscribers in July. Spotify has continued to grow faster than Apple Music thanks to the former streaming service's free tier that allows users to listen to music interspersed with advertisements, which Apple Music does not have.
Apple's offer for new users is a three-month free trial to test out the service before deciding to pay the $9.99/month price point. In May, Iovine said that if Apple Music did have a free tier, "it would have 400 million people on it" and make his job easier, but he and Apple believe in focusing everything into creating a quality experience for the people who are paid subscribers, making them "feel special" in the process.
Check out Billboard's full interview with Jimmy Iovine, Zane Lowe, and Larry Jackson right here. Other topics discussed include how the Apple Music team discovers new artists, Spotify's plan to go public, and Iovine's belief that while Apple Music is good where it's at, the company is "not even close" to being done with iterating and adding onto its features.