Apple Facing Lawsuit Over Heart Rate Sensor in Apple Watch
Apple is facing a lawsuit from Omni MedSci, a company that says Apple is infringing on its patented technology with the Apple Watch's heart rate sensor, reports Axios.
Omni MedSci claims to have met with Apple from 2014 until 2016, but Apple ultimately ended discussions for a partnership and then reportedly used Omni MedSci's patented technology.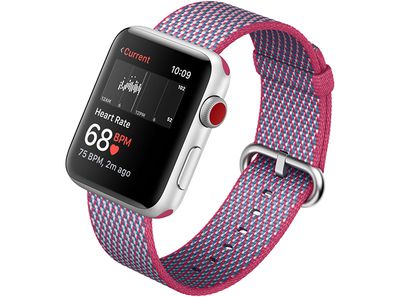 Omni MedSci filed a lawsuit in the Eastern district of Texas today, claiming that Apple willfully infringed on its patents and asking for an injunction against Apple along with damages.
Apple first introduced the Apple Watch in 2015, and since its debut, the Apple Watch has featured a built-in heart rate sensor. Heart rate sensing is a key feature of the wrist-worn device, and recent studies have suggested it can be used to detect a wealth of health problems, like atrial fibrillation, early signs of diabetes, hypertension, and more.
Omni MedSci, the company suing Apple, is owned by Mohammed Islam, who in 2015 was described by a Detroit news site as a "poster child for a patenting professional." He owns six companies and has collected more than 150 patents.
"There's getting a patent and there's getting a patent that will withstand litigation," he told the site. "It's an art form."
Islam has expertise in optical and laster technology and appears to hold several related patents. His patent holding company, Cheetah Omni, has levied lawsuits against companies that include Fujitsu, Alcatel-Lucent, Huawei, Nokia, and Siemens.
In 2015, Islam said that Omni MedSci was working on a wearable glucose monitor that uses lasers to monitor blood sugar levels. At the time, he said that he had met with Apple about the product.