Study Confirms Apple Watch Can Detect Abnormal Heart Rhythm With 97% Accuracy
The heart rate monitors built into the Apple Watch and other wearable devices can detect abnormal heart rhythms with 97 percent accuracy, according to a new study conducted by the team behind the Cardiogram app for Apple Watch in conjunction with researchers at the University of California, San Francisco.
More than 139 million heart rate and step count measurements were collected from 9,750 users of the Cardiogram app who also enrolled in the UC San Francisco Health eHeart Study, with the data used to train DeepHeart, Cardiogram's deep neural network.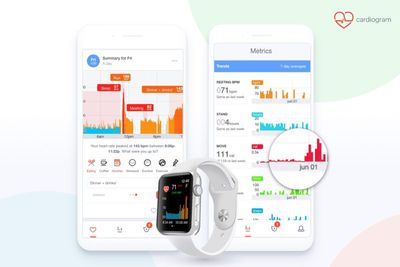 Once trained, DeepHeart was able to read heart rate data collected by wearables, distinguishing between normal heart rhythm and atrial fibrillation with a 97 percent accuracy rate, both when testing UCSF patients with known heart issues and Cardiogram participants.
At a 97 percent accuracy rate, Cardiogram's study suggests the Apple Watch alone does a better job of detecting abnormal heart rhythms than FDA-approved accessory KardiaBand. From Cardiogram co-founder Johnson Hsieh:
97% accuracy refers to the c-statistic, or area under the sensitivity-specificity curve. Surprisingly, both the sensitivity and specificity of DeepHeart were even higher than an FDA-cleared Apple Watch ECG attachment -- 98% (vs 93%) sensitivity and 90% (vs 84%) specificity.
Published in JAMA Cardiology this morning, the study confirms the results from a similar preliminary study done in May of 2017. According to Cardiogram, today's study marks the first peer-reviewed study in a medical journal that demonstrates popular wearables from companies like Apple, Garmin, Polar, LG, and others can detect a major health condition.
Atrial fibrillation, or an abnormal heart rhythm, is a condition that can be indicative of major health problems and it can lead to heart failure and stroke. Atrial fibrillation often goes undiagnosed, which is where the Apple Watch and other wearables can help. The Apple Watch won't replace a traditional EKG, but it can alert people to a problem much earlier than it might otherwise be detected. From the study's conclusion:
This proof-of-concept study found that smartwatch photoplethysmography coupled with a deep neural network can passively detect AF but with some loss of sensitivity and specificity against a criterion-standard ECG. Further studies will help identify the optimal role for smartwatch-guided rhythm assessment.
In addition to studies on the Apple Watch's ability to detect atrial fibrillation, Cardiogram and UCSF have also been working to determine if the Apple Watch heart rate monitor can also detect conditions like hypertension, sleep apnea, and early signs of diabetes. Preliminary studies have suggested all of these conditions could be spotted in data collected by Apple Watch and other common wearable devices.
Apple has been working with researchers at Stanford on its own study to determine whether the heart rate sensor in the Apple Watch can be used to detect abnormal heart rhythms and common heart conditions. While in the study, if an abnormal heart rhythm is detected, participants will be contacted by researchers and asked to wear an ePath monitor to test heart health.
Apple Watch owners can sign up to participate in the Apple Heart Study by downloading and installing the Apple Heart Study app. Those who want to join Cardiogram's studies can install the Cardiogram app and sign up to join the mRhythm study.