New Report Looks Into Apple's Growing Promotional Presence Within Popular TV Shows
Over the years, Apple has included its products in well-known television shows and movies as a way to spread awareness and promote recent launches of its iPhones, iPads, and more. Variety today reported that the company is appearing to increase the presence of these promotional campaigns, with some TV shows including direct connections to the Cupertino company in the closing credits.
Fox's cop drama 9-1-1 includes multiple instances of Apple's iPhone as the main smartphone for its characters, and each episode ends with a "promotional consideration sponsored by Apple" message. According to the report, Apple has recently moved from simple "surprising cameos" to taking directly credited roles in popular TV shows as it does in 9-1-1.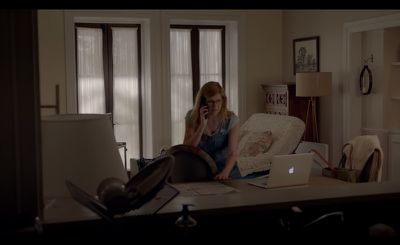 Ad agency the Omnicom Group -- which buys ad time for Apple -- denied having anything to do with purchasing the
9-1-1
appearances. Although Apple and Fox declined to officially comment, marketing professor P.K. Kannan noted that amid the growing prices of Apple products, placing iPhones and MacBooks in the hands of celebrities could garner more attention than a regular TV ad. It usually takes a little while before Apple's latest phones appear regularly in TV shows, and
9-1-1
appears to still be using pre-iPhone X devices.
"They need to sell their increasingly more expensive smartphones to keep their revenues flowing in," notes P.K. Kannan, a marketing professor at the University of Maryland's Robert H. Smith School of Business. "Producers and marketers of hardware have a tough problem when they release new models – convincing the customers of their older models to upgrade to the new versions."

Getting a new iPhone "in the hands of a cool celebrity in a movie or music video or TV program is more likely to garner attention and interest rather than a straight and persuasive TV advertisement," says Kannan. "If done right, product placements can lead to more viral campaigns than other forms of ads. Apple is probably counting on this."
As Variety pointed out, Apple's promotional placements are also "substantially cheaper" than normal commercials.

The in-show placements aren't necessarily free – supplying product costs something – but they are substantially cheaper than traditional TV commercials. And that frees Apple up to spend heavily in more obvious ways. Among 2016 and 2017 TV programs, Apple spent the most on NBC's "Sunday Night Football," according to Kantar Media, a tracker of ad spending. Last season, the average cost of a 30-second ad in that show was $728,434, according to Variety's annual survey of primetime ad prices.
A few days before the original iPad launched in April 2010, an episode of ABC's Modern Family revolved around lead character Phil Dunphy's quest to find one of the new tablets on launch day. Five years later, the sitcom set an entire episode on the screen of Claire Dunphy's MacBook and was shot using an iPhone 6 and iPad Air 2. Neither instance included the promotional disclosure message that has appeared on 9-1-1, and Apple "didn't pay a cent" for its devices' integral parts in each story.
Although one HBO spokesperson explained that "products in shows are creative decisions, not product placements," Variety said that for many professionals in advertising and production circles, these decisions are still "aimed at selling tech." In an interesting aside, a person close to the production of Showtime's Homeland pointed out that the show tries to keep its main characters supplied with smartphones from Apple, Google, Blackberry, and Samsung, while preventing these same phones from appearing "in the hands of evil figures."
Apple is also planning to launch its own slate of original TV programs, where users can likely expect to see characters using many of the company's own products. Although the debut of the service is still uncertain, we're now up to about 12 shows confirmed to eventually launch on the streaming platform. These include shows from M. Night Shyamalan, Damien Chazelle, Steven Spielberg, and more.