Wait Times for iPhone Battery Replacements Increasing
Customers aiming to get a battery replacement for an older iPhone with a degraded battery are facing longer wait times than ever, according to new data shared by Barclays.
Average wait times for a new battery have jumped up to 2.7 to 4.5 weeks based on a series of Apple Store checks conducted by Barclays analyst Mark Moskowitz (via Business Insider). That's up from around 2.3 to 4.5 weeks earlier in the year.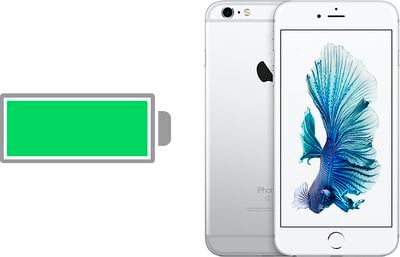 MacRumors has received complaints from customers who are facing long wait times for replacements and who have, in some cases, been waiting for weeks to hear back from Apple about previously requested battery replacements.
When you initiate a battery replacement from Apple, stores typically need to order the part from Apple and then let you know when the new battery arrives, so getting a fresh battery isn't as simple as scheduling a Genius Bar appointment.
Wait times vary based on location and by the device that needs the battery replacement. Batteries for devices like the iPhone 6 and iPhone 6s are harder to come by than batteries for the iPhone 7, and for some devices, like the iPhone 6 Plus, battery wait times have ranged into months.
Back in January, Apple said that for the iPhone 6 Plus, which is no longer being sold, replacement batteries are in such short supply that customers will need to wait until March or April for a new battery.
Customers who are seeking Genius Bar appointments for battery replacements are also crowding out appointment slots for customers with other issues, which is a problem in areas with few Apple Stores.
According to Barclays, the increased battery wait time suggests demand for replacement batteries remains strong, and it indicates an increasing number of iPhone users are opting to take advantage of Apple's $29 battery replacements instead of purchasing a new iPhone.
Barclays previously said that Apple's program could result in millions of fewer iPhone purchases during 2018, something Apple CEO Tim Cook recently said Apple did not take into account when choosing to implement the program in the first place. From Cook:
We did it because we thought it was the right thing to do for our customers. I don't know what effect it will have for our investors. It was not in our thought process of deciding to do what we've done.
Apple has been offering $29 battery replacements for the iPhone 6 and newer since the beginning of the year. Apple implemented the program after facing backlash from power management features that were introduced in iOS 10.2.1.
The power management features have the potential to slow down older iPhones with degraded batteries in order to prevent unexpected shutdowns, and after the issue faced widespread media attention in late 2017, Apple apologized for its lack of transparency and implemented new policies.
In addition to offering reduced cost battery replacements through the end of 2018, Apple is also introducing a new Battery Health feature in iOS 11.3 that lets customers see more detailed information about the status of their iPhone's battery.
For batteries that are degraded enough to be impacted by throttling, Apple also offers an option to turn off the performance management all together.
Power management features impact the iPhone 6, iPhone 6 Plus, iPhone 6s, iPhone 6s Plus, iPhone SE, iPhone 7, and iPhone 7 Plus, and for any affected iPhone, a new battery effectively fixes the issue.