Apple's Phil Schiller: Facial Recognition Techniques in Competing Smartphones 'All Stink'
Apple marketing chief Phil Schiller recently sat down with Dutch website Bright.nl, where he covered topics like Face ID and augmented reality, which he's discussed several times in interviews over the past few months.
According to Schiller, one of Apple's goals with Face ID is to make security easy enough "that we all want to do it." Apple believes its implementation of Face ID is superior to the facial recognition techniques available in Android phones, which Schiller says "all stink."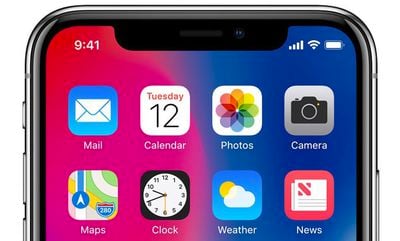 "They don't work in all the ways we need Face ID to work. We're very aware that through the years the simple thing, this Home button, that started as the way you click to get to the Home screen, grew into doing so many things for us. We added Touch ID, it took you to the multitasking screen, paged Siri, activated Apple Pay. All through this one mechanical button.

So for Face ID we needed the best way we know of to enable us to easily unlock our device with our face, in a protected way with the Secure Enclave, and support all these other things. We had to solve all of that. Other things that people have tried with face haven't been anything like that. Face ID is a very unique implementation."
Schiller reiterated Apple's Face ID privacy policies, pointing out that developers have no third-party access to Face ID data. As with Touch ID, the facial scan and data points used to unlock your iPhone are stored in the Secure Enclave on the iPhone X. Developers do have access to facial map data through the TrueDepth camera for AR effects, but Schiller says "that's different than Face ID."
According to Schiller, Apple spent a lot of time studying augmented and virtual reality and the ultimate benefit to users. Schiller, like Apple CEO Tim Cook, says VR is a "great solution for specific use cases" while AR has "incredible broad mainstream applications."
Schiller also had a little bit to say about the HomePod delay. HomePod was originally set to launch in December, but in November, Apple said it would be delayed until 2018. "We feel bad we aren't able to deliver HomePod for the holidays," said Schiller. "We're going to take the time to do it right and make sure it's great when it comes out."
Bright.nl asked Schiller if Apple's "Think Different" motto still applies to Apple today, and Schiller took the opportunity to highlight the AirPods, which are a product that have been lauded as one of Apple's best.
They're really two separate computers that you put in your ear. That's quintessential Apple. We tapped into an eternal truth for Apple. It's about as core to the DNA of Apple as you can get. Think Different should stay very close to true for a long time."
Phil Schiller's interview, which goes into more detail on Face ID and HomePod and delves deeper into Apple's core philosophies, can be read in its entirety over at Bright.nl.