Apple Dismisses Rumors of Ever Putting Touch ID on Back, Side, or Under Display of iPhone X
For over a year leading up to the iPhone X, rumors ran rampant about Touch ID being placed under the display, or on the back or side of the device, but Apple's hardware engineering chief Dan Riccio says the reports were never true.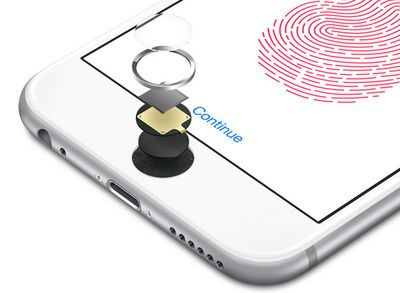 In an interview with TechCrunch's editor-in-chief Matthew Panzarino, Riccio said Apple "spent no time" looking at implementing fingerprint authentication in these ways because it was already focused on perfecting Face ID.
"I heard some rumor [that] we couldn't get Touch ID to work through the glass so we had to remove that," Riccio says, answering a question about whether there were late design changes. "When we hit early line of sight on getting Face ID to be [as] good as it was, we knew that if we could be successful we could enable the product that we wanted to go off and do and if that's true it could be something that we could burn the bridges and be all in with. This is assuming it was a better solution. And that's what we did. So we spent no time looking at fingerprints on the back or through the glass or on the side because if we did those things, which would be a last-minute change, they would be a distraction relative to enabling the more important thing that we were trying to achieve, which was Face ID done in a high-quality way."
Rumors about Apple embedding Touch ID into the iPhone X's display surfaced as early as May 2016, so it remains possible that the company at least explored the idea, but never proceeded with it after moving forward with Face ID.
Several reports corroborated the rumors as recently as this past summer, which usually means they are true.
Many reports even made it sound like Apple was under pressure. In July, KeyBanc Capital Markets analyst Andy Hargreaves said Apple was still struggling to embed Touch ID under the display, to the point the iPhone X could have been delayed.
Sebastian Hou and Brian Chen, analysts at Hong Kong-based equity research firm CLSA, in May said there was a "high chance" that Touch ID would be placed on the back of the iPhone X like Samsung's Galaxy S8.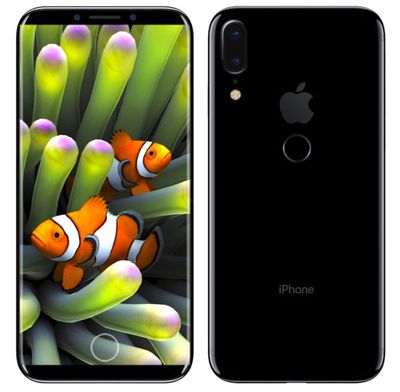 iPhone mockup with Touch ID on rear via iDrop News
It's worth noting that one Apple analyst, the oft-reliable Ming-Chi Kuo, predicted the iPhone X
wouldn't have Touch ID
back in July.
Kuo's latest prediction is that Apple will remove Touch ID on all iPhones launched in 2018 in favor of Face ID. He thinks the TrueDepth camera and 3D facial recognition system won't be significantly upgraded next year.
Face ID has proved to be reliable in early iPhone X reviews and first impressions, and it's also considered easy to set up and use.