Rumors Persist About Apple Placing Touch ID on Back of iPhone 8
Apple's rumored "iPhone 8" with an OLED display and wireless charging will continue to have Touch ID, but there is a "high chance" it will be on the back of the smartphone, says Hong Kong-based equity research firm CLSA.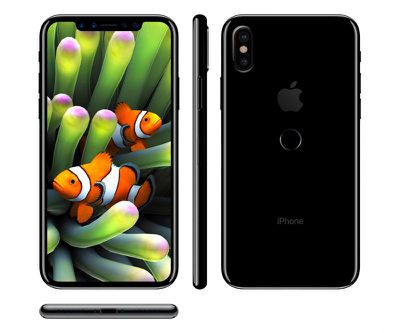 An excerpt from a research note distributed this week by CLSA analysts Sebastian Hou and Brian Chen:
iPhone to ditch fingerprint sensor? We don't think so.
Both Samsung and Apple tried to enable in-display fingerprint sensing on full-screen OLED phones in 2017, but their optical tech seems immature and the major iPhone 8 bottleneck. Some thus speculate the fingerprint sensor will be removed and replaced by 3D sensing. Our latest supply chain checks indicate the iPhone 8 will still have the sensor given security, user-friendliness, and a need for payments infrastructure, but there is a high chance it will be on the back like Samsung's Galaxy S8.
CLSA created a diagram showing Touch ID placed slightly below the Apple logo on the back of the iPhone.
Samsung included a fingerprint sensor on the back of the Galaxy S8, but some reviews found it to be awkwardly positioned next to the camera. Apple placing Touch ID lower down could make it easier to reach.


The diagram also shows a vertically-aligned dual-lens camera, a widely rumored iPhone 8 feature seen in previous renders. There also appear to be additional modules next to the front-facing camera, likely for rumored 3D sensing and facial recognition functionality. Other features shown are identical to the iPhone 7.
The diagram suggests the iPhone 8 will be 144mm tall and 71mm wide, making it slightly larger than an iPhone 7 but smaller than an iPhone 7 Plus as expected. With a depth of 7.69mm, the iPhone 8 would be just a hair thicker than the iPhone 5s, if the dimensions CLSA lists prove to be accurate.
Touch ID on the back of the iPhone 8 appears to be a fallback solution given Apple's struggles to integrate the fingerprint sensor underneath the smartphone's display effectively enough for mass production. Leaked renders suggest Apple has explored a rear Touch ID sensor on at least one iPhone 8 prototype.
Other manufacturing challenges may push iPhone 8 production behind schedule by at least one or two months, possibly delaying shipments until October or November. Nevertheless, most analysts still think Apple will announce the iPhone 8 in September alongside the so-called iPhone 7s and iPhone 7s Plus.
While some Apple fans will quip that "this same rumor surfaces every year," oft-reliable analyst Ming-Chi Kuo of KGI Securities implied this year's shortage could be much more "severe" than in previous years.