Apple Has 'Just Weeks' to Solve iPhone 8 Touch ID Dilemma
For all the rumors we've seen recently surrounding Apple's upcoming "iPhone 8", one of the most inconsistent remains the fate of its Touch ID fingerprint recognition technology in the redesigned flagship device, which is expected to launch in September.
In late May, supply chain sources suggested that Apple had overcome technical hurdles and that the OLED iPhone will have Touch ID integrated into the display. However, according to a report from KGI Securities analyst Ming-Chi Kuo earlier this month, Apple plans to replace Touch ID in the iPhone 8 with a facial recognition security system – a prediction echoed by both JP Morgan analyst Rod Hall and Bloomberg.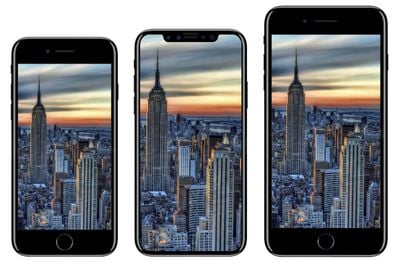 In the latest throw of the dice, a report from investment publication Barron's concludes that Apple is still struggling to put a fingerprint sensor under the glass of its next iPhone, and that the company has "just a couple of weeks" to solve the matter before its earnings estimates are at risk.
According to KeyBanc Capital Markets analyst Andy Hargreaves, who contributed to the report, Apple has until August to either place orders for chips to run a fingerprint sensor, or miss that window and not have a fingerprint ID at all, or delay more significantly the release of the iPhone.
We believe it would typically take 12 weeks from placement of fingerprint IC orders to full volume production of iPhones. Consequently, if Apple is able to solve its fingerprint problems and place orders for fingerprint ICs before August, it would likely be able to reach volume production in late October or early November. We believe this remains Apple's preferred path, and expect it would be acceptable to both consumers and investors. It is entirely unclear if Apple will be able to fix the problem in this time frame.
Hargreaves considers the possibility that Apple will replace Touch ID with facial recognition "increasingly likely" as time passes, but "far from ideal". Echoing the thoughts of many observers, Hargreaves goes on to highlight the challenges a supposed replacement facial recognition security system would need to overcome to meet the standard of existing Touch ID, particularly with regard to authenticating Apple Pay.

We believe Apple's facial recognition system solution should work from many angles and in low-light environments. However, it would not work without clear line of sight to the user's face. Even if this encompassed just 5% of login scenarios, it would mean that several times a day the new iPhone would perform worse at an elemental feature than older iPhones, which would risk pushback from consumers. Further, we do not believe facial recognition would be initially qualified as an acceptable verification method for Apple Pay. While Apple could achieve this over time, the likelihood for an initial lack of Apple Pay could adversely affect demand.
Hargreaves concludes that if Apple thinks facial recognition isn't sufficient by itself for login and authentication, then a delay in the retail availability of the OLED iPhone is "very unlikely, but possible". But while the analyst believes a delay up until mid-November would not have an impact on investor expectations for the cycle, anything beyond that timeframe could have negative repercussions.

Alleged leaked 'iPhone 8' glass back panel via Weibo
Meanwhile, alleged leaks continue to trickle out into the social media sphere, the most recent coming today via Chinese microblogging service
Weibo
claiming to show an "iPhone 8" production glass panel back that has no cutout for a Touch ID fingerprint sensor. Early rumors
suggested
Apple would relocate the sensor to the rear of the handset, similar to the Samsung Galaxy S8.
Apple is thought to have incorporated 3D sensing technology in the forward-facing camera of its "iPhone 8", which may perform a function in the purported facial scanning feature. Alongside the redesigned OLED iPhone, Apple is also expected to announce incremental updates to the iPhone 7 and 7 Plus.