Apple's 'iPhone 8' Might Not Ship Until Late 2017, Side Button Touch ID Unlikely
Though Apple's radically redesigned "iPhone 8" is expected to be introduced in September alongside standard iPhone 7s and 7s Plus devices, it may not start shipping out to consumers until October to early November, according to new information shared today by Japanese site Mac Otakara [Google Translate].
Citing information from supply chain sources and various accessory makers, Mac Otakara says the iPhone 8 will not ship until the first half of the first quarter of fiscal 2018, translating to sometime in October or November. This is in line with many previous rumors and analyst predictions hinting at a delayed mass production timeline.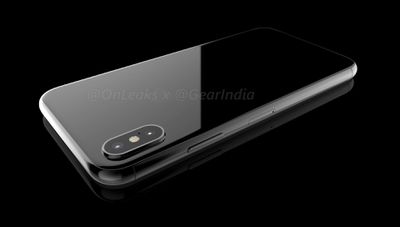 The site's sources have only seen a front display panel component in black, suggesting Apple may only release the iPhone 8 in black. Previous rumors have suggested it will be available in a limited number of colors, with white unconfirmed.
There has been some speculation that because Apple is removing the Home button from the iPhone and introducing a larger side button Touch ID could be built into said side button, but Mac Otakara does not believe that is the case. Side button components are said to be solid with no additional sensors or parts needed for Touch ID, suggesting the side button is just a simple power button.
With rumors of both rear and side button Touch ID quashed, it's looking more like reports suggesting Touch ID is built into the display or removed entirely are accurate.
Apple was said to be planning to build Touch ID into the display of the device, but rumors now indicate its efforts may have been unsuccessful, with the company instead planning to replace Touch ID with facial recognition.
Reports are still mixed, however, so it's not yet entirely clear if Touch ID has been eliminated, but Mac Otakara says the possibility of in-display Touch ID "seems to be low."
Based on images of screen protectors, the site believes there are several new front-facing sensors accessory makers will need to compensate for, further pointing towards the inclusion of new 3D sensors for facial recognition purposes. The front-facing FaceTime camera may also be relocated to the right of the device.


With August fast approaching, we're only about five or six weeks away from the prospective debut date of the iPhone 8 and its companion devices, based on past launch timelines. In recent years, iPhone launch events have taken place during the first or second week of September.