This morning Matthew Roberts shared a new drone video of Apple Park on his YouTube channel, representing the latest addition to the drone videographer's ongoing monthly aerial coverage of Apple's new campus. Roberts' Apple Park coverage dates back to March 2016, and fellow drone pilot Duncan Sinfield has been providing aerial footage for Apple's new workspace since 2015.
In the new video, a closer glimpse at the Steve Jobs Theater is provided, with some of the window coverings having been removed since the last update. The auditorium is still one of the areas of the campus that's under heavy construction, as it isn't expected to officially open until sometime later this year.
Roberts also captured one of the first glimpses of the
historic Glendenning Barn
that Apple has finished reconstructing and placed at Apple Park. Built in 1916, the historic Cupertino barn has deep ties to the city's agricultural past and was located at the planned site for Apple Campus 2.
During preparation for the construction of Apple Park, Apple carefully deconstructed the building plank by plank and made notes on how to rebuild it exactly the same. Now, the company has done just that and remade the Glendenning Barn at Apple Park, residing next to the employee fitness center and in the middle of what will eventually be a larger collection of fruit trees once landscaping on the campus is finished.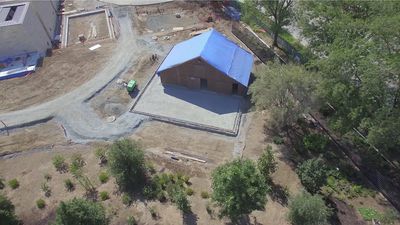 Other spots at Apple Park highlighted in Roberts' new video include the parking garage, R&D facility, and the Spaceship building itself. Yesterday, Apple quietly updated Apple Maps to include 3D models of these buildings in the mapping app, as well as access roads around Apple Park.
Apple recently gave Wired a behind-the-scenes look into Apple Park, including tidbits about Steve Jobs' connection to the campus, a look into the "Ring" building's original design, and detailed images of the campus' construction and interiors.