Apple's AR Team Includes Talent From Lucasfilm and Weta Digital, Smart Glasses Still 'A Ways Off'
It's been known that Apple has people working on augmented reality initiatives for future devices, which range from the technology's inclusion in a future version of the iPhone to separate "mixed reality" glasses. Today, a Bloomberg report has gathered all of the speculation surrounding Apple and AR together, while also providing some insight into a few lesser-known areas of Apple's AR project.
Apple's augmented reality team is said to combine "the strengths of its hardware and software veterans," along with new additions within the company, according to people familiar with Apple's plans. The team is run by Mike Rockwell, who came from Dolby, and also consists of Yury Petrov (formerly of Oculus), Avi Barzeev (formerly of HoloLens), Cody White (formerly of Amazon's VR project "Lumberyard"), Tomlinson Holman (formerly of Lucasfilm), and more.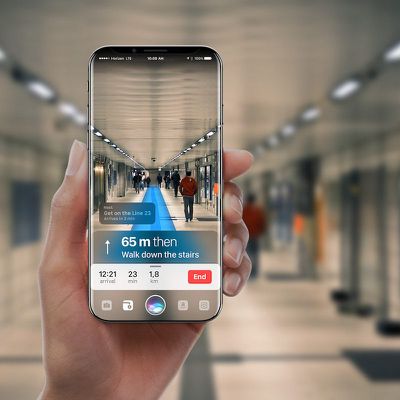 The total scope of Apple's AR team is rounded out by many camera and optical lens engineers, as well as "people with experience in sourcing the raw materials for the glasses." Apple has even included talent from 3D animation company Weta Digital, which worked on films like
Avatar
and
The Lord of the Rings
. This team of individuals, along with AR advocate Tim Cook, see the new technology as a way for Apple "to dominate the next generation of gadgetry and keep people wedded to its ecosystem."
Apple has built a team combining the strengths of its hardware and software veterans with the expertise of talented outsiders, say the people, who requested anonymity to discuss internal strategy. Run by a former Dolby Laboratories executive, the group includes engineers who worked on the Oculus and HoloLens virtual reality headsets sold by Facebook and Microsoft as well as digital-effects wizards from Hollywood. Apple has also acquired several small firms with knowledge of AR hardware, 3D gaming and virtual reality software.
The separate glasses are said to still be "a ways off," but AR integrated iPhone devices could show up much sooner, said the inside sources. Bloomberg compared the AR glasses to the Apple Watch, mentioning that the technology would come with its own OS and likely be tethered to an iPhone to send images and content to the user while consuming a lot of power, forcing Apple to find a battery life solution that would fit in the wearable's small frame. In addition to battery problems, Apple will have to find a way to convince users to wear the glasses in the first place.
Explanations regarding the usefulness of AR on an iPhone remain scarce, but some feature details were also provided by Bloomberg today. The camera-specific abilities include ways for users to change the depth of an entire photo, or the depth of a specific object in the photo. In the past, Apple has cited interest in such technology, filing a patent for a digital camera with a refocusable imaging mode adapter that could be included in an iPhone. Former CEO Steve Jobs even met with a company, Lytro, who created the first light field camera.

Hundreds of engineers are now devoted to the cause, including some on the iPhone camera team who are working on AR-related features for the iPhone, according to one of the people. One of the features Apple is exploring is the ability to take a picture and then change the depth of the photograph or the depth of specific objects in the picture later; another would isolate an object in the image, such as a person's head, and allow it to be tilted 180 degrees. A different feature in development would use augmented reality to place virtual effects and objects on a person, much the way Snapchat works.
Apple is believed to be working on virtual reality technology, in addition to its interest in augmented reality, but with the success of apps like Pokémon Go the rumor cycle has taken to suggest that the company is betting more on AR. It's still unclear when a product including either piece of technology might launch. Recent concept images of the "iPhone 8" have taken a crack at visualizing AR features on an Apple smartphone, baking in "enhanced Siri" abilities and augmented reality directly into the user interface.
Although many companies continue to invest time and money into both AR and VR, data collected by a number of market research firms late last year suggested that sales for such devices were weakening amid consumer apathy, grown out of a lack of interesting content and expensive prices.