Tim Cook Says Augmented Reality is 'Larger' Than Virtual Reality
Apple CEO Tim Cook continued his New York City tour this week with a wide-ranging Good Morning America interview about the iPhone 7, AirPods, virtual reality, and other topics. A teaser of the interview was first shared yesterday.
On the subject of virtual reality, Cook said that augmented reality is actually the "larger of the two," because it allows people to "be very present" while using the technology. Cook added that "less people would be interested" in virtual reality, but that the technology has interesting use cases for education and gaming.
"There's virtual reality and there's augmented reality -- both of these are incredibly interesting. But my own view is that augmented reality is the larger of the two, probably by far, because this gives the capability for both of us to sit and be very present, talking to each other, but also have other things -- visually -- for both of us to see. Maybe it's something we're talking about, maybe it's someone else here who's not here present but who can be made to appear to be present."
When questioned about the iPhone 7's lack of a headphone jack, Cook touted wireless as the future and said the plug's removal provides space for other features like a larger battery and stereo speakers:
Wireless is the future. When you decide on what the future is, you want to get there as soon as you can. Why is that important for the consumer? Well, that plug, that jack, takes up a lot of space in the phone, and there's a lot more important things we can provide for the consumer than that jack. We can provide a larger battery. The stereo speakers I mentioned -- those were also enabled because the jack is not there anymore.
Addressing potential concerns about AirPods falling out or being misplaced, Cook said their charging case is a "great place" to keep them and added that he has "never personally had one fall out" thanks to the wireless design.
"There's a little case that you put the AirPods in. Magnetically, they're sort of sucked down into the case. It's a great place to both charge them and keep them. I've been wearing them for a while, and because they don't have wires on them — the wires tend to help the earbud to fall out, because it applies weight on those. By snipping the wires, I have never personally had one fall out. I've been on treadmills. Walking. All the things you would normally do."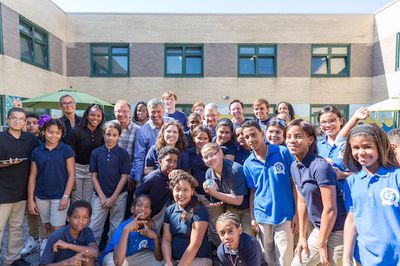 During his trip to New York this week, Cook has also visited P.S. 161 The Crown School in Brooklyn and Apple's new World Trade Center store in Manhattan. Apple retail chief Angela Ahrendts, services chief Eddy Cue, and marketing executive Greg Joswiak were also on hand for the store visit.