iPhone 8 Concepts and Mockups - Part 2
With the iPhone 8 set to receive a major redesign that is rumored to add an edge-to-edge display, eliminate the home button, and introduce some sort of touch bar-style feature, it's no surprise that we're seeing dozens of concept images and mockups imagining what such a device might look like.
Back in February, we rounded up some of the best iPhone concepts, but designers and artists have been creating new mockups on a regular basis, so this is part two in the concept series. These concepts don't reflect the actual design of the iPhone 8, but it's fun to imagine what we might see this fall.
Designer Gabor Balogh has dreamed up a detailed "iPhone X" with an edge-to-edge display and a virtual home button that powers an augmented reality Siri feature.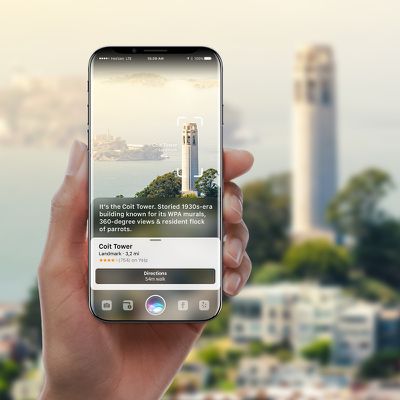 A space around the virtual home button displays dynamic smart functions that change with each app. The way the edge-to-edge display is imagined is perhaps the best part of the concept, as we don't know if AR or advanced Siri features are coming in the iPhone 8.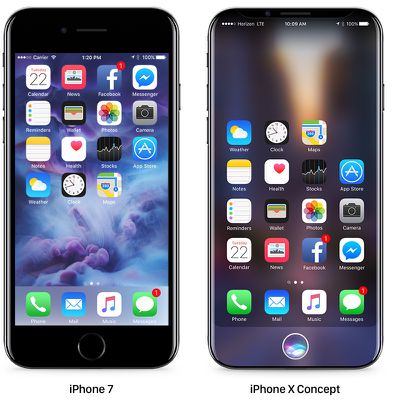 UX designer Vianney le Masne imagined an iPhone 8 "without borders" that incorporates iOS 11 and a highly desired feature, dark mode. It has an edge-to-edge display but leaves a top bar in place for the camera. The darker-themed UI is definitely the most interesting part of this idea.


An iPhone 8 concept video by Arthur Reis shared by ConceptsiPhone features a device with a nearly edge-to-edge display that continues to have thin bezels, a small indent for a home button, dual cameras, and a glass body. It imagines fantastical non-rumored features like a "hover-sensitive screen," dual front-facing cameras, and an "AirCharger" for long-range wireless charging.
There's an ad included from a sponsor in the video at 1:42, so skip ahead to 2:20 to avoid it and see the full conceptual design.
A second ConceptsiPhone video created by Sahanan Yogarasa imagines an iPhone 8 that has an edge-to-edge display at the sides but continues to have top and bottom bezels.
A circular camera area is on the back, and it imagines several new colors, including a dark blue, a red, and a copper shade. This probably isn't what the iPhone 8 will look like, especially the camera area, but the color choices are interesting.
Designer
AlHasan Husni
has also imagined an iPhone 8 that incorporates a dark mode and a screen that wraps around the edges of the device slightly, incorporating rumors of a curved display. More recent rumors have suggested the iPhone 8 will have a standard 2.5D display and no curved edges.


Over the course of the next couple months, we'll likely start to see our first part leaks for the iPhone 8, which will give us a better idea of what to expect from Apple's 10th anniversary device.
Part leaks will help narrow down some of the questions we have about the device, such as its specific size (rumored to be 5.8 inches), the curve of the display (supposed to be similar to the iPhone 7), and the design of the two more affordable devices that are rumored to be accompanying the higher-end OLED iPhone 8.
For full details on what to expect from the 2017 iPhone based on the rumors that have been circulating about the device, make sure to check out our extensive and detailed iPhone 8 roundup.